Luxury Plank Flooring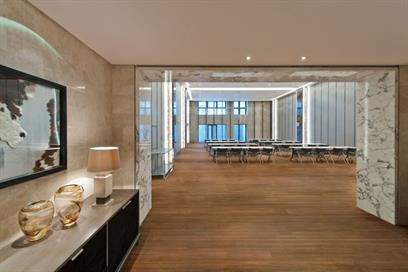 When we consider commercial vinyl flooring we may conjure a farmhouse kitchen, grade school cafeteria, or a doctor's office from our youth. Those expanses of cool, shiny flooring that stretched down halls and through rooms were a popular choice then because the flooring was attractive, durable, affordable and easy to maintain. Vinyl flooring still possesses those same qualities, but improvements in its composition and production make it a truly 21st century flooring option appropriate for almost any use.
Modern vinyl flooring evolved from linoleum, an earlier manufactured sheet flooring. Vinyl is actually manufactured through a pressing process, where substances like wood filler or ground cork are combined with pigments and a binding compound, such as linseed oil or resins, and this mixture is then pressed into sheets. The sheets are then coated with a clear wear layer that seals the vinyl and creates its finished look that can range from a natural matte finish to a glasslike gleam. One of the most attractive features of vinyl flooring is the incredible array of colors and designs available.
These remarkable design options result from two separate manufacturing processes used in creating vinyl flooring. The traditional inlaid construction process uses chips of colored vinyl that are pressed onto a carrier sheet and then bonded together; the more modern rotogravure process allows actual printing to occur on the vinyl sheets. Between these two processes, there is almost no look that cannot be provided by vinyl flooring.
Vinyl flooring is remarkably sturdy and wear resistant, and with some simple precautions, it retains its original beauty for years. As with all hard surface floors, it can be marked or scratched by furniture legs without protective pads, so be certain to use felt or a similar protector under heavy pieces. Vinyl can also be damaged when grit and debris are ground into its surface; avoid this with regular sweeping and mopping. Wet spills on vinyl are common (because it is such a popular choice for kitchens, bathrooms and laundry rooms), but these liquid spots can stain or discolor the vinyl surface if they are not promptly cleaned.
Linoleum is not vinyl flooring and Linoleum is often confused with sheet vinyl. As sheet vinyl gained popularity compared to natural linoleum in the 1960s and 1970s, the term linoleum continued to be used for all sheet goods, including tile products. Even today, sheet vinyl is regularly called linoleum, and VCT sometimes is called linoleum tile. These products are completely different. Vinyl flooring itself is available in two forms, sheets and tiles.