Vinyl Tile Flooring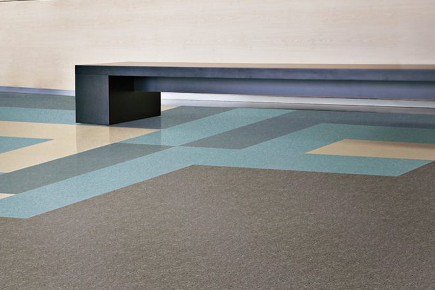 The variety of vinyl tile sizes compliments the wide range of colors and designs, creating limitless custom decorating options. Vinyl Composition Tile and Luxury Vinyl Tile are two popular types of vinyl tile. Vinyl Composition Tile (VCT) is used primarily in commercial and institutional applications such as hospitals, offices, schools, transportation centers, etc.
Vinyl tiles are composed of colored vinyl chips formed into solid sheets of varying thicknesses (1/8 is most common) by heat and pressure and cut into 12 squares. Vinyl tile is often specified for high-traffic areas because of its low cost, durability, and ease of maintenance. Vinyl tiles have high resilience to abrasion and impact damage and can be repeatedly refinished with chemical strippers and mechanical buffing equipment. If properly installed, tiles can be easily removed and replaced when damaged. Tiles are available in a variety of colors from several major flooring manufacturers. Some manufacturers have created vinyl tiles that very closely resemble wood, stone, terrazzo, and concrete. Tiles can easily be cut and assembled into colorful and decorative patterns.
Vinyl Composition tile (VCT) accounts for more square footage than any other category of resilient flooring. Millions of square feet of this well-known product have been installed in retail stores supermarkets, hospitals, and schools.
The next time you go to a movie theater, grocery store, mass merchandiser or most any retail store, you will see the newest styles in the hottest flooring segment – Luxury Vinyl Tile (LVT). In fact, it's difficult to think of a single business segment or market that is not using some type of commercial luxury vinyl tile in areas formerly fitted with either VCT or other vinyl sheet goods, ceramic or hardwood.
The main difference between VCT and LVT is a layer of laminated photographic or print film that is applied to the surface of a VCT or solid vinyl tile, with a clear wear coat applied over it. The goal of LVT is to give the appearance of natural material with the durability of vinyl and a lower price tag than the original material.