Commercial Carpeting Cleaning in the Dallas-Fort Worth Metroplex
Carpet Care
Your carpets are among the first things people see in your office. With all the foot traffic, stress, and spills your carpets encounter on a daily basis, regular cleaning is simply a part of keeping your office beautiful. At MilliCare by Lonestar Facility Solutions, we offer gentle cleaning services that keep your carpets fresh and beautiful without requiring some of the hassles that you get with other cleaning methods.
Dry Polymer Cleaning
Dry care by MilliCare is an innovative way to keep on top of your carpet cleanliness. By using a dry polymer, MilliCare gets your carpet cleaner without putting them through additional stress of traditional hot water extraction. These dry polymers also require drastically less dry time, so you'll be able to get back to work much sooner.
While our skilled technicians are expertly trained in a variety of methods and processes, MilliCare 's proprietary dry carpet cleaning system is the best way to remove dirt, extend the life of your carpet, and improve the air around you – protecting your investment by keeping your carpet clean. And since our process is dry-centered, you can get back to work in minutes, not hours.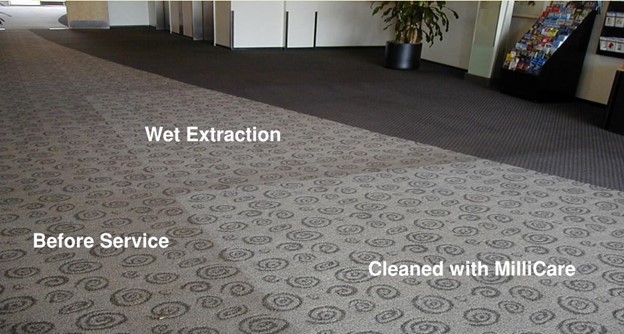 The benefits of MilliCare dry care for commercial carpet include:
Shorter drying time: Our dry polymers mean you're not waiting overnight before using your carpet again, making it an excellent option for hotels and other facilities that need around-the-clock access.
Stays cleaner longer: MilliCare 's effective cleaning system removes more dirt and debris from commercial carpets than other cleaning systems. Additionally, by reducing the amount of water used in the cleaning process, the MilliCare process also greatly reduces the common tendency for spots to reappear shortly after cleaning with hot water.
Harmless to carpets: While hot water extraction can cause shrinking, seam separation, color bleeding, mildew, or delamination, MilliCare 's gentle system keeps your carpet in better shape.
Removes airborne contaminants: Our carpet care services remove up to 99% of air pollutants, giving your office better air quality.
Saves water: Our system uses up to 99.5% less water than our competitors.
Did you know that your carpet is a giant air filter? Click here to read more about how maintaining proper carpet care improves indoor air quality.
Why MilliCare for Commercial Carpet Care Services?
For more than two decades, MilliCare has consistently provided innovative, excellent carpet and textile care. Backed by our national network of professional project management consultants and expertly trained technicians, MilliCare is prepared to deliver high-quality care to local, regional, and national clients in these sectors and more: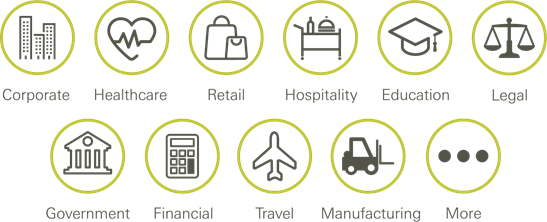 Trained technicians are efficient and discreet so as not to interrupt your employees, visitors, and guests.
Single-source provider saves you time, energy, and money.
State-of-the-art system with products and methods born from cutting-edge R&D.
Happy, healthy employees, visitors, and guests.
Impeccable brand impression: A clean facility translates to better brand and company image.
Measurable water savings using MilliCare 's Environmental Resource Calculator
Removes up to 99% of indoor allergens to improve Indoor Air Quality (IAQ)
MilliCare has earned the CRI Seal of Approval as a Deep Cleaning System
See why MilliCare by Lonestar Facility Solutions is the best commercial carpet cleaning service around. Click here to contact us or call (214) 974-3748 to schedule your demonstration and receive your customized care plan!