World FM Day 2016 - Empowering People For A Productive World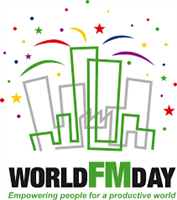 Once a year, the global facilities management community comes together to celebrate on World FM Day, an opportunity to globally discuss and share experiences and celebrate the successes of facility management professionals worldwide. This year's theme "Empowering people for a productive world" looks at how facilities management (FM) enables different business disciplines to collaborate to deliver high quality business performance.
Says Duncan Waddell, Chairman of Global FM, "FM is all about enablement; as a sector we enable people to work, we enable the economy, we enable technology, we enable social interaction – the list is endless. At the crux of all of this is people – and for this year's World FM Day we aim to highlight how we, as FM professionals, empower people to reach their full potential and in turn create a productive world."
As total care solution providers, we have the pleasure of partnering with FM professionals across our communities every day and are able to witness firsthand how the work they do truly is empowering their organizations to deliver consistent, high-quality services and products. We asked a few of our partner FMs how they are empowering their organizations every day. Here's what they had to say:
---
Ray Ramirez, FMP - Senior Facilities Manager JLL | Bank of America
"I found that not micromanaging and allowing people to shape the business empowers us all and promotes motivation on a personal level, giving ownership. Utilizing modern platforms and applications available like enterprise social networking tools such as Yammer makes it easier for employees to contribute to institutional knowledge. Cloud-based office suites like Office 365 help contribute to a culture of sharing and helping across the enterprise. Each of us having ownership in the day-to-day operations and the use of the latest Technology platforms provides a productive and effective work environment."
Chuck Zufelt  FMP  PFM - Maintenance Supervisor-Office Services, Crowley Maritime Corporation
"The roof at our operational headquarters in Jacksonville had reached the end of its service life. The 21,000 square-foot roof was original to the facility when it was constructed 30 years ago. We developed and executed a planned replacement of the roof before major leaks developed and result in potential property damage.
When researching available options, we looked for solutions that were more environmentally friendly. The old roof was dark and with constant exposure to the Florida sun, we felt significant energy savings could be achieved with one that was lighter in color. We chose a cool roof with a white reflective surface that reduces the heat transfer to the building.
The installation of the roof took place in 2015. We faced a huge challenge with the weather, which turned rainy shortly after we began the project. The rain caused some delays which pushed the work into the summer. Despite the challenges, we preserved and the installation was completed in three months.
We have been very pleased with the early results and the utilities savings achieved. Our average monthly electrical cost during 2013-2014 was $22,628. Our average monthly savings so far this year is a little more than 10%, about $2,500, which translates to $30,000 annually. These savings have been reflected in reduced overhead charges to the business units, which has helped with overall profitability."
Anonymous
"Achieving a well-functioning building is the main goal of our efforts every day. By constantly pursuing ways to become more efficient in our operating systems, choosing sustainable materials and effective processes, I'm able to take that concern off the minds of our top executives and allow them to focus on the things they need to, all while reducing operating costs."
Anonymous
"The safety and health of our staff is always top of mind for me. I avoid harmful chemicals with cost-effective, sustainable products where possible. I ensure the safety of our people by keeping entrances, walkways and carparks hazard free, dry and safe at all times. By keeping our people healthy and safe, we allow them to come to work each day without worry and reduce the costs associated with sick time and injury claims."
Posted By
MilliCare by Cubix
Categories: