MilliCare's Month of Care Chairity Event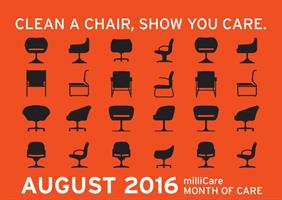 Every day, approximately 1,200 kids enter foster care in the United States. Together We Rise, a 501(c)3 non-profit organization, is changing the way these children experience what can be an emotionally trying system. The non-profit organization, led entirely by volunteers, was founded by a group of teens in 2008, with the goal of providing a sense of normalcy to children who live in the foster care system. Through their programs and events, Together We Rise strives to offer children in foster care the tools and experiences that they need to build happier, more confident futures.
For the second year in a row we, along with the broader MilliCare network, are able to partner with Together We Rise to help make a difference in the lives of these children. Over the course of the month of August, for each chair cleaned or committed to be cleaned, Cubix, Inc. will donate $1 to the Together We Rise organization. Last year, during our CHAIRity event, the MilliCare network donated over $32,000 to the charity. We hope to surpass this in 2016 and, as a network, have set a bold goal of reaching $50,000 in donations this year.
We believe in investing in people and in the communities and environment in which they live. Our holistic approach is cyclical: healthy environments foster healthy people who cultivate healthy communities.
We hope that you will join us in investing in the next generation. Give us a call today to schedule your August chair cleaning.
Posted By
milliCare by Cubix
Categories: