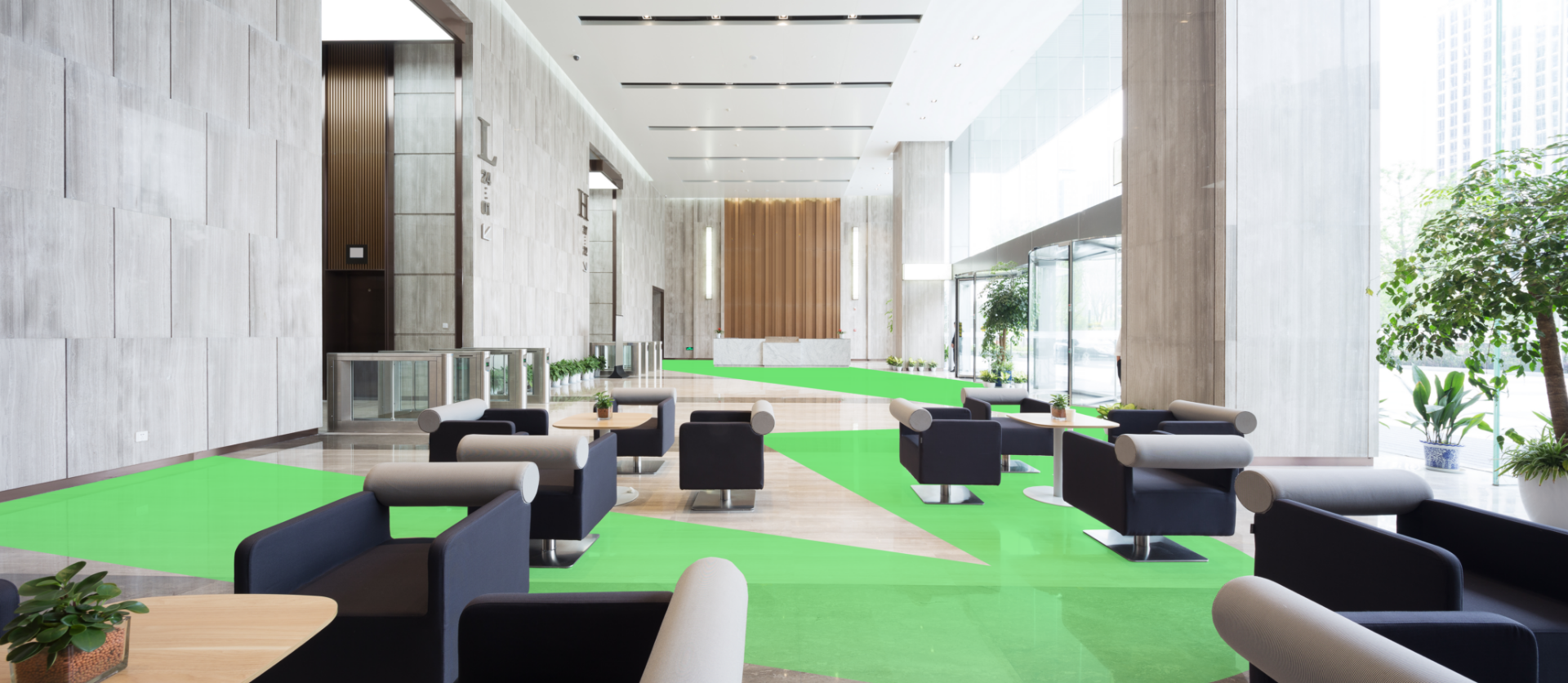 Your Local Commercial Floor & Textile Care Experts in New Jersey
Commercial Floor Cleaning Services in New Jersey
Better Carpet Cleaning for a Healthier Environment
For commercial floors that look as good as your business deserves, choose the best cleaning service around: MilliCare by EcoDry. We offer advanced, environmentally friendly solutions that help your carpet stay looking new without wasting excessive water and energy, and keep it out of the landfill by extending its lifespan. Our Dry Polymer system cares for both your carpet and the environment—no harsh chemicals allowed.
Call MilliCare by EcoDry today to find out why our green commercial floor cleaning solutions are trusted by countless satisfied customers throughout the region.
Our Services
Our network of skilled project-management professionals assess your space to understand your facilities' unique needs and determine which materials and surfaces in your space can be cleaned.
View All Services
Get Your Workspace on the Right Track
We offer preventive carpet and textile protection to prevent spills from staining. By helping defend your commercial carpets and upholstery before they're in use, our protective care can preserve your investment longer and keep your office looking sharp. If your carpet is already in use, MilliCare by EcoDry can perform our Dry Polymer cleaning to remove dirt and debris, then apply fiber protection to extend the life of your floor.
Customized Solutions that Meet Your Business Needs
No matter what commercial floor cleaning service or textile maintenance your commercial space requires, MilliCare by EcoDry offers a customized solution tailored to your needs. No two businesses are alike, so we offer a variety of services to take help your business stay looking beautiful.
Professional upholstery cleaning services offered by MilliCare by EcoDry include:
Commercial carpet cleaning
Tile and grout cleaning
Upholstery care
Performance coatings for hard-surface floors
Protective care for carpets and textiles
Proactive entryway systems
Find out what commercial carpet cleaning service is right for your New Jersey business. Call MilliCare by EcoDry today at

(973) 905-4421

to schedule your cleaning demonstration.
Incredible Cost Savings

"They have restored carpet that I thought I was going to have to pull out. The nap was down, it was filthy. No one could get it clean, [wet] extraction couldn't get it clean. They revived [the carpet] and gave us two more years with that carpet then our lease ended and we moved out. It was an incredible cost savings."

- Judy L. Senior Facility Manager, CB Richard Ellis (CBRE)

A company I can count on!

"Their immediate response to any of my last minute requests, their readiness to return the next day and clean especially stubborn spots that resurfaced, their comprehensive knowledge and explanation of their cleaning process when I really want to know, and their willingness to turn our monthly program on its ear and create a new weekly schedule for us. Now that's a company I can count on!"

- Stacy S. Time Warner Cable

Saves us stress.

"MilliCare saves us money. Saves us stress. They find a way, they work with us. We feel important because they make us feel important."

- Sarah B. Facility Manager, Blackrock Investment Manager
Read More Reviews
Achievements & Certifications
Contact Us
(973) 905-4421
Areas We Serve
allamuchy
allendale
alpine
andover
annandale
asbury
augusta
avenel
baptistown
basking ridge
bayonne
bedminster
belle mead
belleville
belvidere
bergenfield
berkeley heights
bernardsville
blairstown
blawenburg
bloomfield
bloomingdale
bloomsbury
bogota
boonton
bound brook
branchville
bridgewater
broadway
brookside
budd lake
butler
buttzville
caldwell
califon
carlstadt
carteret
cedar grove
cedar knolls
changewater
chatham
chester
clark
cliffside park
clifton
clinton
closter
colonia
columbia
convent station
cranbury
cranford
cresskill
dayton
delaware
demarest
denville
dover
dumont
dunellen
east brunswick
east hanover
east orange
east rutherford
edgewater
edison
elizabeth
elizabethport
elmwood park
emerson
englewood
englewood cliffs
essex fells
fair lawn
fairfield
fairview
fanwood
far hills
flagtown
flanders
flemington
florham park
fords
fort lee
franklin
franklin lakes
franklin park
frenchtown
garfield
garwood
gillette
gladstone
glasser
glen gardner
glen ridge
glen rock
glenwood
great meadows
green village
greendell
hackensack
hackettstown
haledon
hamburg
hampton
harrington park
harrison
hasbrouck heights
haskell
haworth
hawthorne
helmetta
hewitt
hibernia
high bridge
highland lakes
highland park
hightstown
hillsborough
hillsdale
hillside
ho ho kus
hoboken
hopatcong
hope
hopewell
ironia
irvington
iselin
jersey city
johnsonburg
kearny
keasbey
kendall park
kenilworth
kenvil
kingston
lafayette
lake hiawatha
lake hopatcong
lambertville
landing
lawrence township
layton
lebanon
ledgewood
leonia
liberty corner
lincoln park
linden
little falls
little ferry
little york
livingston
lodi
long valley
lyndhurst
lyons
madison
mahwah
manville
maplewood
martinsville
maywood
mc afee
mendham
metuchen
middlesex
middleville
midland park
milford
millburn
millington
milltown
mine hill
monmouth junction
monroe township
montague
montclair
montvale
montville
moonachie
morris plains
morristown
mount arlington
mount freedom
mount tabor
mountain lakes
mountainside
neshanic station
netcong
new brunswick
new milford
new providence
new vernon
newark
newfoundland
newton
north arlington
north bergen
north brunswick
northvale
norwood
nutley
oak ridge
oakland
ogdensburg
old bridge
oldwick
oradell
orange
oxford
palisades park
paramus
park ridge
parlin
parsippany
passaic
paterson
peapack
pennington
pequannock
perth amboy
phillipsburg
picatinny arsenal
pine brook
piscataway
pittstown
plainfield
plainsboro
pluckemin
pompton lakes
pompton plains
port murray
port reading
pottersville
princeton
princeton junction
quakertown
rahway
ramsey
randolph
raritan
readington
ridgefield
ridgefield park
ridgewood
ringoes
ringwood
river edge
riverdale
rochelle park
rockaway
rocky hill
roseland
roselle
roselle park
rosemont
rutherford
saddle brook
saddle river
sayreville
schooleys mountain
scotch plains
secaucus
sergeantsville
sewaren
short hills
skillman
somerset
somerville
south amboy
south bound brook
south hackensack
south orange
south plainfield
south river
sparta
spotswood
springfield
stanhope
stanton
stewartsville
stillwater
stirling
stockholm
stockton
succasunna
summit
sussex
swartswood
teaneck
tenafly
teterboro
titusville
totowa
towaco
township of washington
tranquility
trenton
union
union city
vauxhall
vernon
verona
vienna
waldwick
wallington
wallpack center
warren
washington
watchung
wayne
weehawken
west milford
west new york
west orange
westfield
westwood
wharton
whippany
whitehouse
whitehouse station
windsor
wood ridge
woodbridge
woodcliff lake
wyckoff
zarephath
07001
07002
07003
07004
07005
07006
07007
07008
07009
07010
07011
07012
07013
07014
07015
07016
07017
07018
07019
07020
07021
07022
07023
07024
07026
07027
07028
07029
07030
07031
07032
07033
07034
07035
07036
07039
07040
07041
07042
07043
07044
07045
07046
07047
07050
07051
07052
07054
07055
07057
07058
07059
07060
07061
07062
07063
07064
07065
07066
07067
07068
07069
07070
07071
07072
07073
07074
07075
07076
07077
07078
07079
07080
07081
07082
07083
07086
07087
07088
07090
07091
07092
07093
07094
07095
07096
07097
07099
07101
07102
07103
07104
07105
07106
07107
07108
07109
07110
07111
07112
07114
07175
07184
07188
07189
07191
07192
07193
07195
07198
07199
07201
07202
07203
07204
07205
07206
07207
07208
07302
07303
07304
07305
07306
07307
07308
07310
07311
07395
07399
07401
07403
07405
07407
07410
07416
07417
07418
07419
07420
07421
07422
07423
07424
07428
07430
07432
07435
07436
07438
07439
07440
07442
07444
07446
07450
07451
07452
07456
07457
07458
07460
07461
07462
07463
07470
07474
07480
07481
07495
07501
07502
07503
07504
07505
07506
07507
07508
07509
07510
07511
07512
07513
07514
07522
07524
07533
07538
07543
07544
07601
07602
07603
07604
07605
07606
07607
07608
07620
07621
07624
07626
07627
07628
07630
07631
07632
07640
07641
07642
07643
07644
07645
07646
07647
07648
07649
07650
07652
07653
07656
07657
07660
07661
07662
07663
07666
07670
07675
07676
07677
07699
07801
07802
07803
07806
07820
07821
07822
07823
07825
07826
07827
07828
07829
07830
07831
07832
07833
07834
07836
07837
07838
07839
07840
07842
07843
07844
07845
07846
07847
07848
07849
07850
07851
07852
07853
07855
07856
07857
07860
07863
07865
07866
07869
07870
07871
07874
07875
07876
07877
07878
07879
07880
07881
07882
07885
07890
07901
07902
07920
07921
07922
07924
07926
07927
07928
07930
07931
07932
07933
07934
07935
07936
07938
07939
07940
07945
07946
07950
07960
07961
07962
07963
07970
07974
07976
07977
07978
07979
07980
07981
07999
08502
08504
08512
08520
08525
08528
08530
08534
08536
08540
08541
08542
08543
08544
08550
08551
08553
08556
08557
08558
08559
08560
08561
08601
08602
08603
08604
08605
08606
08607
08608
08609
08610
08611
08618
08619
08620
08625
08628
08629
08638
08645
08646
08647
08648
08650
08666
08690
08691
08695
08801
08802
08803
08804
08805
08807
08808
08809
08810
08812
08816
08817
08818
08820
08821
08822
08823
08824
08825
08826
08827
08828
08829
08830
08831
08832
08833
08834
08835
08836
08837
08840
08844
08846
08848
08850
08852
08853
08854
08855
08857
08858
08859
08861
08862
08863
08865
08867
08868
08869
08870
08871
08872
08873
08875
08876
08879
08880
08882
08884
08885
08886
08888
08889
08890
08899
08901
08902
08903
08904
08906
08933
08989