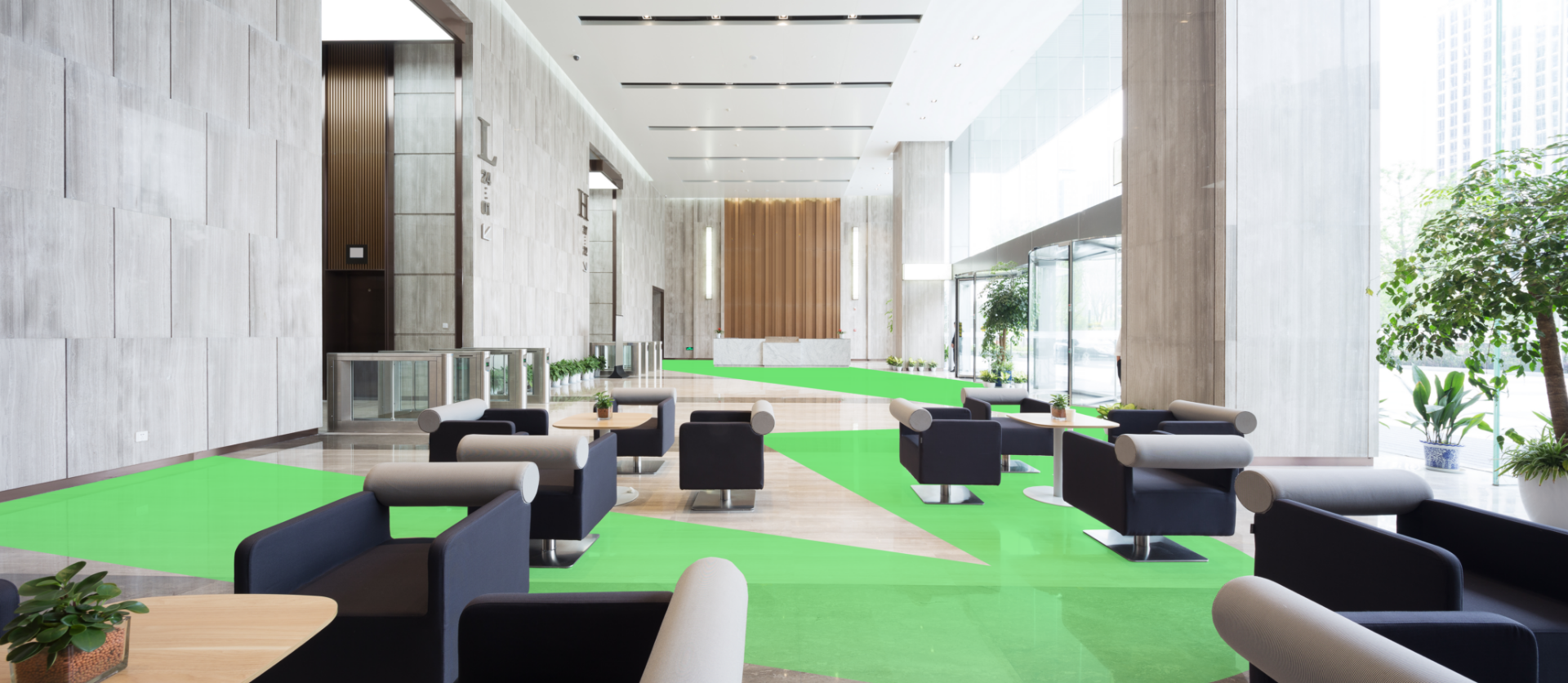 Your Local Commercial Floor & Textile Care Experts in Mid Michigan
Mid-Michigan Commercial Carpet Cleaning
Decades of Green Cleaning Excellence
There are better ways to clean your Mid-Michigan commercial floor than by conventional methods. Solutions like hot water extraction use excessive amounts of water and electricity and require a long drying time during which mold and bacteria can grow. MilliCare offers an environmentally friendly way for your business to get back to work faster, without any risk of mold or bacteria growth.
Our innovative Dry Polymer system all but eliminates the need for water in carpet cleaning. The MilliCare commercial carpet cleaning system uses over 99% less water than conventional methods, requiring only a light spray to active our synthetic materials. Once activated, polymers bind to dirt and debris all the way down at the base of carpet fibers, resulting in a cleaner carpet that can go longer between service appointments.
Call MilliCare of Mid-Michigan today and find out why we're the region's trusted provider of fast, effective commercial carpet cleaning.
Our Services
Our network of skilled project-management professionals assess your space to understand your facilities' unique needs and determine which materials and surfaces in your space can be cleaned.
View All Services
Your Customized Solution
When you call MilliCare of Mid-Michigan to schedule a cleaning demonstration, a MilliCare -certified technician will assess the cleaning needs of your business, and make service suggestions that work within your schedule and budget.
Along with our carpet cleaning system, you'll learn about our other useful services, such as:
Preventive carpet fiber protection
Spot cleaning and upholstery care
Tile and grout cleaning and restoration
Hard-surface floor cleaning and coating
Learn more about what MilliCare of Mid-Michigan can do for your business. Call us today and schedule your cleaning demonstration.
Incredible Cost Savings

"They have restored carpet that I thought I was going to have to pull out. The nap was down, it was filthy. No one could get it clean, [wet] extraction couldn't get it clean. They revived [the carpet] and gave us two more years with that carpet then our lease ended and we moved out. It was an incredible cost savings."

- Judy L. Senior Facility Manager, CB Richard Ellis (CBRE)

A company I can count on!

"Their immediate response to any of my last minute requests, their readiness to return the next day and clean especially stubborn spots that resurfaced, their comprehensive knowledge and explanation of their cleaning process when I really want to know, and their willingness to turn our monthly program on its ear and create a new weekly schedule for us. Now that's a company I can count on!"

- Stacy S. Time Warner Cable

Saves us stress.

"MilliCare saves us money. Saves us stress. They find a way, they work with us. We feel important because they make us feel important."

- Sarah B. Facility Manager, Blackrock Investment Manager
Read More Reviews
Achievements & Certifications
Contact Us
(989) 660-1280
Areas We Serve
akron
alger
alma
almont
applegate
argyle
ashley
atlas
attica
au gres
auburn
bad axe
bancroft
bannister
barton city
bath
bay city
bay port
beaverton
bellevue
bentley
birch run
black river
blanchard
brant
breckenridge
bridgeport
brighton
brooklyn
brown city
burt
burton
byron
caro
carrollton
carsonville
caseville
cass city
charlotte
chesaning
clare
clarklake
clifford
clio
cohoctah
coleman
columbiaville
comins
concord
corunna
croswell
curran
dansville
davison
decker
deckerville
deford
dewitt
dimondale
dryden
durand
eagle
east lansing
east tawas
eaton rapids
edenville
elkton
elm hall
elsie
elwell
essexville
eureka
fairgrove
fairview
farwell
fenton
filion
flint
flushing
forestville
fostoria
fowler
fowlerville
frankenmuth
frederic
freeland
gagetown
gaines
genesee
gladwin
glennie
goodrich
grand blanc
grand ledge
grass lake
grayling
greenbush
gregory
hadley
hale
hamburg
hanover
harbor beach
harrison
harrisville
hartland
haslett
hemlock
henderson
higgins lake
holt
hope
horton
houghton lake
houghton lake heights
howell
imlay city
ithaca
jackson
kawkawlin
kinde
kingston
laingsburg
lake
lake george
lakeland
lansing
lapeer
lennon
leslie
lexington
lincoln
linden
linwood
long lake
lupton
luzerne
maple rapids
marlette
mason
mayville
melvin
merrill
metamora
michigan center
middleton
midland
mikado
millington
minden city
mio
montrose
morrice
mount morris
mount pleasant
mulliken
munger
munith
napoleon
national city
new lothrop
north branch
north star
norvell
oakley
okemos
olivet
omer
onondaga
oscoda
otisville
otter lake
ovid
owendale
owosso
palms
parma
peck
perrinton
perry
pigeon
pinckney
pinconning
pleasant lake
pompeii
port austin
port hope
port sanilac
potterville
prescott
prudenville
reese
rhodes
richville
riverdale
rives junction
roscommon
rose city
rosebush
ruth
saginaw
saint charles
saint helen
saint johns
saint louis
sandusky
sanford
sebewaing
shaftsburg
shepherd
silverwood
snover
south branch
spring arbor
springport
spruce
standish
sterling
stockbridge
sumner
sunfield
swartz creek
tawas city
turner
twining
ubly
unionville
university center
vassar
vermontville
vernon
webberville
weidman
west branch
westphalia
wheeler
whittemore
williamston
winn
48003
48114
48116
48137
48139
48143
48169
48353
48401
48410
48411
48412
48413
48414
48415
48416
48417
48418
48419
48420
48421
48422
48423
48426
48427
48428
48429
48430
48432
48433
48434
48435
48436
48437
48438
48439
48440
48441
48444
48445
48446
48449
48450
48451
48453
48454
48455
48456
48457
48458
48460
48461
48463
48464
48465
48466
48467
48468
48469
48470
48471
48472
48473
48475
48476
48480
48501
48502
48503
48504
48505
48506
48507
48509
48519
48529
48531
48532
48550
48551
48552
48553
48554
48555
48556
48557
48601
48602
48603
48604
48605
48606
48607
48608
48609
48610
48611
48612
48613
48614
48615
48616
48617
48618
48619
48620
48621
48622
48623
48624
48625
48626
48627
48628
48629
48630
48631
48632
48633
48634
48635
48636
48637
48638
48640
48641
48642
48647
48649
48650
48651
48652
48653
48654
48655
48656
48657
48658
48659
48661
48662
48663
48667
48670
48674
48686
48701
48703
48705
48706
48707
48708
48710
48720
48721
48722
48723
48724
48725
48726
48727
48728
48729
48730
48731
48732
48733
48734
48735
48737
48738
48739
48740
48741
48742
48743
48744
48745
48746
48747
48748
48749
48750
48754
48755
48756
48757
48758
48759
48760
48761
48762
48763
48764
48765
48766
48767
48768
48770
48787
48801
48804
48805
48806
48807
48808
48813
48816
48817
48819
48820
48821
48822
48823
48824
48825
48826
48827
48830
48831
48832
48833
48835
48836
48837
48840
48841
48842
48843
48844
48847
48848
48853
48854
48855
48856
48857
48858
48859
48861
48862
48864
48866
48867
48871
48872
48874
48876
48877
48878
48879
48880
48882
48883
48889
48890
48892
48893
48894
48895
48896
48901
48906
48908
48909
48910
48911
48912
48913
48915
48916
48917
48918
48919
48922
48924
48929
48930
48933
48937
48951
48956
48980
49021
49076
49096
49201
49202
49203
49204
49230
49234
49237
49240
49241
49246
49251
49254
49259
49261
49263
49264
49269
49272
49277
49283
49284
49285
49310
49733
49738
49739