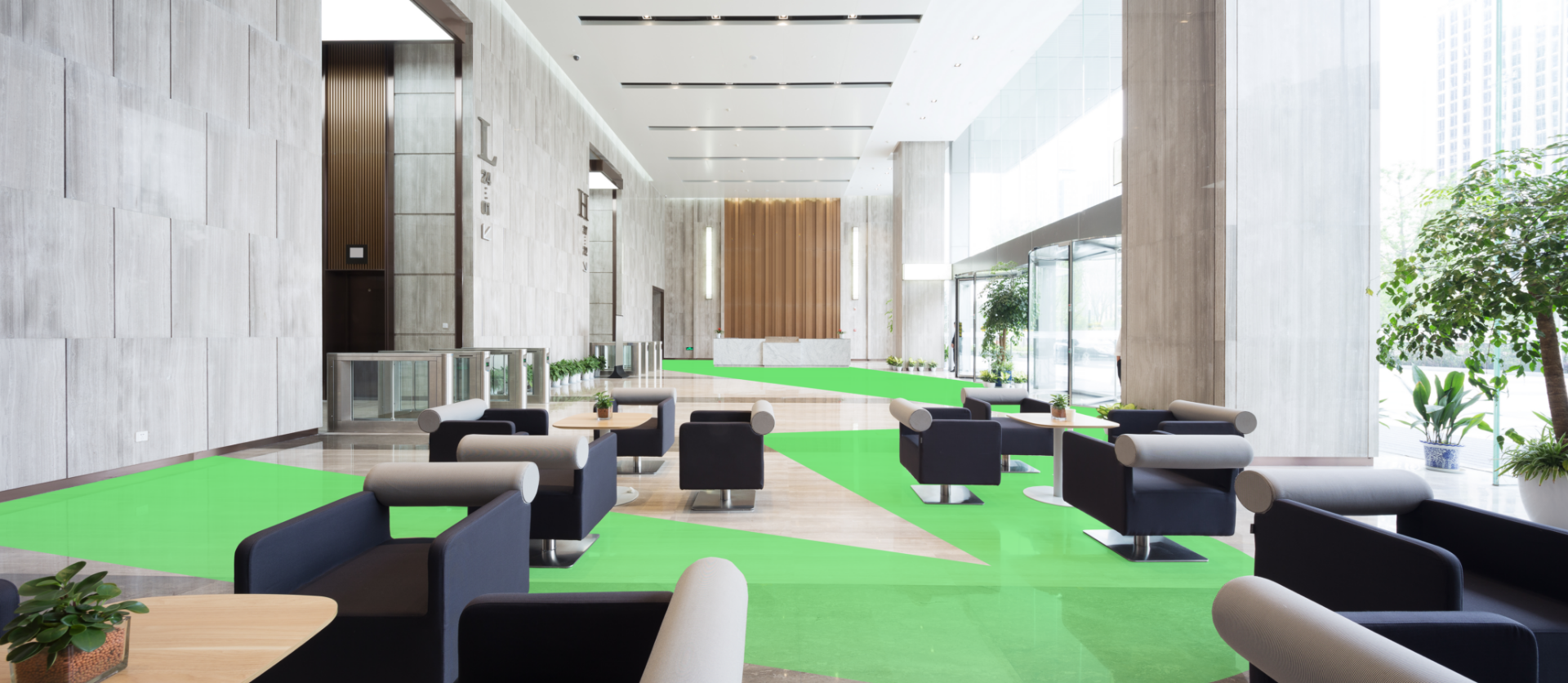 Your Local Commercial Floor & Textile Care Experts in St. Louis
Professional Commercial Carpet Cleaning Services Serving the St. Louis Area!
Decades of Experience Helping Businesses Shine in Clayton, Maryland Heights, And Surrounding Areas!
Creating a good impression for your guests and employees begins with presenting a spotless workspace. With MilliCare by M.R. Jensen Enterprises, you can give your St. Louis business an outstanding commercial carpet cleaning using less water and energy. Our environmentally friendly cleaning solutions outperform conventional methods and dry faster, so you'll be able to use your fresh carpet sooner. For more than two decades, MilliCare has been dedicated to perfecting our fast, effective, and eco-friendly products and methods to deliver the best commercial floor cleaning around.
Interested in finding out more about our environmentally sensitive cleaning solutions? Call MilliCare by M.R. Jensen Enterprises today to schedule your demonstration.
Our Services
Our network of skilled project-management professionals assess your space to understand your facilities' unique needs and determine which materials and surfaces in your space can be cleaned.
View All Services
Green Cleaning for a Better Environment
Since the beginning, MilliCare by M.R. Jensen Enterprises has remained committed to reducing waste and conserving resources. MilliCare 's Dry Polymer process uses less than 1% of the water used in hot water extraction carpet cleaning. By using our system, your Montgomery business can earn points toward green government initiatives.
What Makes MilliCare by M.R. Jensen Enterprises Better?
The advanced MilliCare system eliminates the need for industrial fans to blow on a soggy carpet for hours—which is the perfect environment for mildew, mold, and bacteria to grow. By using our Dry Polymer system, advanced compounds bind to dirt and debris all the way at the base of carpet fibers and can then be brushed free and vacuumed away.
Since the MilliCare by M.R. Jensen Enterprises system uses hardly any water, its benefits include:
Drastically shorter dry times
No home for mold or bacteria to grow
Deeper clean
Longer time between cleaning
Less water and energy waste
Now is the time to call MilliCare by M.R. Jensen Enterprises and learn more about customized, green-friendly commercial floor cleaning service plans that meet your needs. Call now at

(314) 310-2732

!
Achievements & Certifications
Contact Us
(314) 310-2732
Areas We Serve
albers
alhambra
alton
anchor
argenta
arnold
arrowsmith
athens
atlanta
auburn
augusta
aviston
ballwin
barnhart
bartelso
beason
beaufort
beckemeyer
belleville
bellflower
bement
benson
berger
bethalto
bloomington
blue mound
bondville
boody
breese
bridgeton
brimfield
broadlands
buffalo
cantrall
carlock
caseyville
catawissa
cedar hill
cerro gordo
champaign
chatham
chenoa
chesterfield
chestnut
chillicothe
cisco
clinton
colfax
collinsville
columbia
congerville
cooksville
cornland
cottage hills
cottleville
cropsey
crystal city
danvers
dawson
de land
de soto
decatur
defiance
dewey
dewitt
dittmer
divernon
dorsey
dow
downs
dunlap
dupo
dutzow
earth city
east alton
east carondelet
east peoria
east saint louis
edelstein
edwards
edwardsville
el paso
elkhart
ellsworth
elmwood
elsah
elsberry
elwin
emden
eureka
fairview heights
farmer city
fenton
festus
fidelity
fieldon
fisher
fletcher
flinthill
florissant
foley
foosland
foristell
forsyth
freeburg
fults
gerald
germantown
gifford
glasford
glen carbon
glenarm
glencoe
godfrey
goodfield
grafton
granite city
gray summit
greenview
gridley
grover
grubville
hamel
hammond
hanna city
harristown
hartford
hartsburg
hawk point
hazelwood
hecker
hematite
herculaneum
heyworth
high ridge
highland
hillsboro
hoffman
homer
house springs
hudson
illiopolis
imperial
ivesdale
jerseyville
kenney
keyesport
kimmswick
kingston mines
la place
labadie
lake fork
lake saint louis
lane
latham
laura
lawndale
le roy
lebanon
lenzburg
leslie
lexington
liguori
lincoln
lincolns new salem
livingston
loami
lonedell
longview
lovejoy
lowder
lowpoint
ludlow
luebbering
macon
madison
maeystown
mahomet
mansfield
mapaville
mapleton
marine
marissa
maroa
marthasville
maryland heights
maryville
mascoutah
mc lean
mechanicsburg
medora
merna
metamora
middletown
millstadt
milmine
minonk
monticello
moro
morse mill
moscow mills
mossville
mount pulaski
mt zion
national stock yards
new athens
new baden
new berlin
new douglas
new haven
new holland
new melle
new memphis
niantic
normal
o fallon
ogden
old monroe
olney
oreana
pacific
pawnee
penfield
peoria
peoria heights
pesotum
pevely
philo
pleasant plains
portage des sioux
princeville
rantoul
renault
riverton
roanoke
robertsville
rochester
rome
roxana
royal
sadorus
saint albans
saint ann
saint charles
saint clair
saint jacob
saint joseph
saint libory
saint louis
saint peters
savoy
saybrook
scott air force base
secor
seymour
sherman
shirley
sidney
silex
smithton
south roxana
springfield
stanford
stanton
sullivan
summerfield
tallula
thayer
thomasboro
tolono
towanda
treloar
trenton
trivoli
troy
truesdale
truxton
union
urbana
valley park
valmeyer
venice
villa ridge
wapella
warrensburg
warrenton
washington
waterloo
waynesville
weldon
wentzville
west alton
white heath
whiteside
williamsville
winfield
wood river
worden
wright city
60949
61451
61516
61517
61523
61525
61526
61528
61529
61530
61533
61536
61539
61545
61547
61548
61552
61559
61561
61562
61569
61601
61602
61603
61604
61605
61606
61607
61612
61613
61614
61615
61616
61625
61629
61630
61633
61634
61635
61636
61637
61638
61639
61641
61643
61650
61651
61652
61653
61654
61655
61656
61701
61702
61704
61705
61709
61710
61720
61722
61723
61724
61725
61726
61727
61728
61729
61730
61731
61732
61735
61736
61737
61738
61742
61744
61745
61748
61749
61750
61751
61752
61753
61754
61756
61758
61760
61761
61770
61771
61772
61774
61776
61777
61778
61790
61791
61799
61801
61802
61803
61813
61815
61816
61818
61820
61821
61822
61824
61825
61826
61830
61839
61840
61842
61843
61845
61847
61849
61851
61852
61853
61854
61855
61856
61859
61862
61863
61864
61866
61871
61872
61873
61874
61875
61877
61878
61880
61882
61884
61929
61936
62001
62002
62010
62018
62021
62022
62024
62025
62026
62028
62030
62031
62034
62035
62037
62040
62046
62048
62052
62058
62059
62060
62061
62062
62063
62067
62071
62074
62084
62087
62090
62095
62097
62201
62202
62203
62204
62205
62206
62207
62208
62215
62216
62218
62219
62220
62221
62222
62223
62225
62226
62230
62232
62234
62236
62239
62240
62243
62244
62245
62248
62249
62250
62253
62254
62255
62256
62257
62258
62260
62264
62265
62266
62269
62279
62281
62282
62285
62289
62293
62294
62295
62298
62501
62512
62513
62514
62515
62518
62519
62520
62521
62522
62523
62524
62525
62526
62530
62532
62535
62536
62537
62539
62541
62543
62544
62545
62548
62549
62551
62554
62558
62561
62563
62573
62613
62615
62625
62629
62634
62635
62642
62643
62656
62659
62661
62662
62666
62670
62671
62677
62684
62688
62689
62693
62701
62702
62703
62704
62705
62706
62707
62708
62711
62712
62715
62716
62719
62722
62723
62726
62736
62739
62756
62757
62761
62762
62763
62764
62765
62766
62767
62769
62776
62777
62781
62786
62791
62794
62796
63005
63006
63010
63011
63012
63013
63014
63015
63016
63017
63019
63020
63021
63022
63023
63024
63025
63026
63028
63030
63031
63032
63033
63034
63037
63038
63039
63040
63041
63042
63043
63044
63045
63047
63048
63049
63050
63051
63052
63053
63055
63056
63057
63060
63061
63065
63066
63068
63069
63070
63072
63073
63074
63077
63079
63080
63084
63088
63089
63090
63099
63101
63102
63103
63104
63105
63106
63107
63108
63109
63110
63111
63112
63113
63114
63115
63116
63117
63118
63119
63120
63121
63122
63123
63124
63125
63126
63127
63128
63129
63130
63131
63132
63133
63134
63135
63136
63137
63138
63139
63140
63141
63143
63144
63145
63146
63147
63150
63151
63155
63156
63157
63158
63160
63163
63164
63166
63167
63169
63171
63177
63178
63179
63180
63182
63188
63195
63197
63199
63301
63302
63303
63304
63332
63338
63341
63342
63343
63346
63347
63348
63349
63357
63362
63365
63366
63367
63368
63369
63370
63373
63376
63377
63378
63379
63380
63381
63383
63385
63386
63387
63389
63390