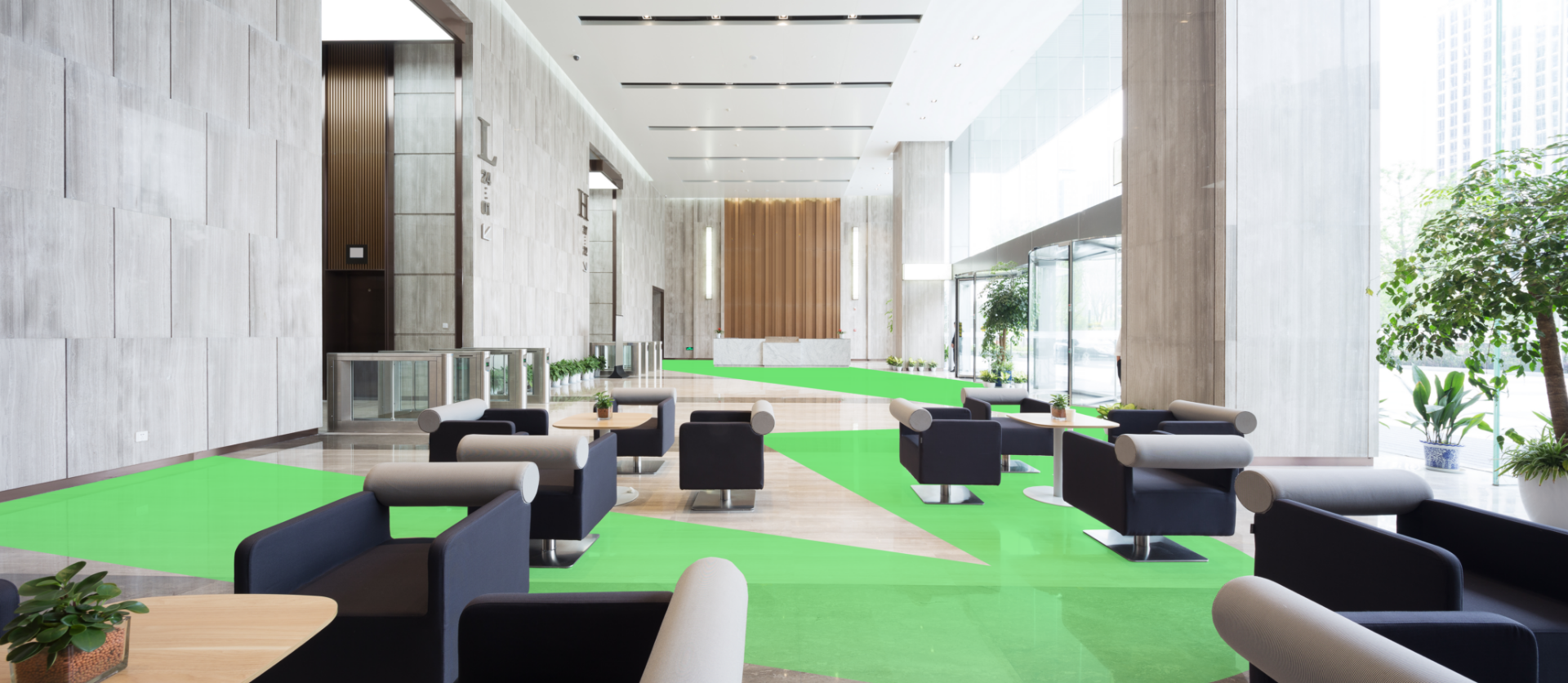 Your Local Commercial Floor & Textile Care Experts in RTH Commercial Interiors
Commercial Carpet Cleaning in Kansas City
Eco-Friendly Floor Care that Performs Better
Commercial carpet cleaning doesn't need to be a multi-day ordeal. The advanced Dry Polymer solutions offered by MilliCare by RTH Commercial Interiors provide a deeper clean with minimal drying time. Using a water-activated compound to reach down and bind with dirt and debris at the root of carpet fibers, particulates are brushed up out of the carpet and vacuumed away. This leaves your business with fresh, clean carpets that stay that way longer—using a fraction of the water and energy of other methods.
There's no better time than now to give MilliCare by RTH Commercial Interiors a call and schedule your cleaning demonstration.
Our Services
Our network of skilled project-management professionals assess your space to understand your facilities' unique needs and determine which materials and surfaces in your space can be cleaned.
View All Services
Comprehensive Cleaning Services for Your Business
Beyond carpet cleaning, MilliCare 's services include:
Upholstery and textile care
Tile and grout care
Hard-surface floor cleaning
Carpet fiber protection
Entryway moisture control systems
By keeping your carpets, floors, and furniture clean, you eliminate dirt and debris that would otherwise wear away at fibers. This means your textiles remain in better condition for years to come, giving you a better return on investment.
Find out why MilliCare by RTH Commercial Interiors is Kansas City's trusted commercial floor cleaning and upholstery service provider. Give us a call today and meet with one of our certified technicians.
Incredible Cost Savings

"They have restored carpet that I thought I was going to have to pull out. The nap was down, it was filthy. No one could get it clean, [wet] extraction couldn't get it clean. They revived [the carpet] and gave us two more years with that carpet then our lease ended and we moved out. It was an incredible cost savings."

- Judy L. Senior Facility Manager, CB Richard Ellis (CBRE)

A company I can count on!

"Their immediate response to any of my last minute requests, their readiness to return the next day and clean especially stubborn spots that resurfaced, their comprehensive knowledge and explanation of their cleaning process when I really want to know, and their willingness to turn our monthly program on its ear and create a new weekly schedule for us. Now that's a company I can count on!"

- Stacy S. Time Warner Cable

Saves us stress.

"MilliCare saves us money. Saves us stress. They find a way, they work with us. We feel important because they make us feel important."

- Sarah B. Facility Manager, Blackrock Investment Manager
Read More Reviews
Achievements & Certifications
Contact Us
(816) 239-2369
Areas We Serve
agency
alma
archie
auburn
baldwin city
basehor
bates city
belton
berryton
blue springs
bonner springs
buckner
bucyrus
camden
camden point
cameron
cleveland
concordia
corder
creighton
de kalb
de soto
dearborn
dover
east lynne
easton
edgerton
edwardsville
emma
eudora
excelsior springs
farley
faucett
fontana
fort leavenworth
freeman
garden city
gardner
gower
grain valley
grandview
grantville
greenwood
hardin
harrisonville
henrietta
higginsville
hillsdale
holt
independence
kansas city
kearney
lansing
lathrop
lawrence
lawson
leavenworth
leawood
lecompton
lees summit
lenexa
levasy
lexington
liberty
linwood
lone jack
louisburg
mayview
mc louth
meriden
mission
missouri city
mosby
napoleon
new century
nortonville
oak grove
odessa
olathe
orrick
osawatomie
oskaloosa
overland park
ozawkie
paola
peculiar
perry
platte city
plattsburg
pleasant hill
prairie village
raymore
rayville
richmond
riverside
rossville
rushville
saint joseph
shawnee
sibley
silver lake
smithville
spring hill
stilwell
strasburg
tecumseh
tonganoxie
topeka
trimble
turney
valley falls
wakarusa
waldron
waverly
wellington
weston
winchester
64001
64002
64011
64012
64013
64014
64015
64016
64017
64018
64020
64021
64022
64024
64028
64029
64030
64034
64035
64036
64037
64048
64050
64051
64052
64053
64054
64055
64056
64057
64058
64060
64062
64063
64064
64065
64066
64067
64068
64069
64070
64071
64072
64073
64074
64075
64076
64077
64078
64079
64080
64081
64082
64083
64084
64085
64086
64088
64089
64090
64092
64096
64097
64098
64101
64102
64105
64106
64108
64109
64110
64111
64112
64113
64114
64116
64117
64118
64119
64120
64121
64123
64124
64125
64126
64127
64128
64129
64130
64131
64132
64133
64134
64136
64137
64138
64139
64141
64144
64145
64146
64147
64148
64149
64150
64151
64152
64153
64154
64155
64156
64157
64158
64161
64162
64163
64164
64165
64166
64167
64168
64170
64171
64179
64180
64184
64187
64188
64190
64191
64195
64196
64197
64198
64199
64401
64429
64439
64440
64443
64444
64448
64454
64465
64477
64484
64492
64493
64501
64502
64503
64504
64505
64506
64507
64508
64701
64725
64734
64739
64743
64746
64747
64999
65327
66006
66007
66012
66013
66018
66019
66020
66021
66025
66026
66027
66030
66031
66036
66043
66044
66045
66046
66047
66048
66049
66050
66051
66052
66053
66054
66060
66061
66062
66063
66064
66066
66070
66071
66073
66083
66085
66086
66088
66097
66101
66102
66103
66104
66105
66106
66109
66110
66111
66112
66113
66115
66117
66118
66119
66160
66201
66202
66203
66204
66205
66206
66207
66208
66209
66210
66211
66212
66213
66214
66215
66216
66217
66218
66219
66220
66221
66222
66223
66224
66225
66226
66227
66250
66251
66276
66282
66283
66285
66286
66402
66409
66420
66429
66512
66533
66539
66542
66546
66601
66603
66604
66605
66606
66607
66608
66609
66610
66611
66612
66614
66615
66616
66617
66618
66619
66620
66621
66622
66624
66625
66626
66629
66636
66647
66667
66675
66683
66699