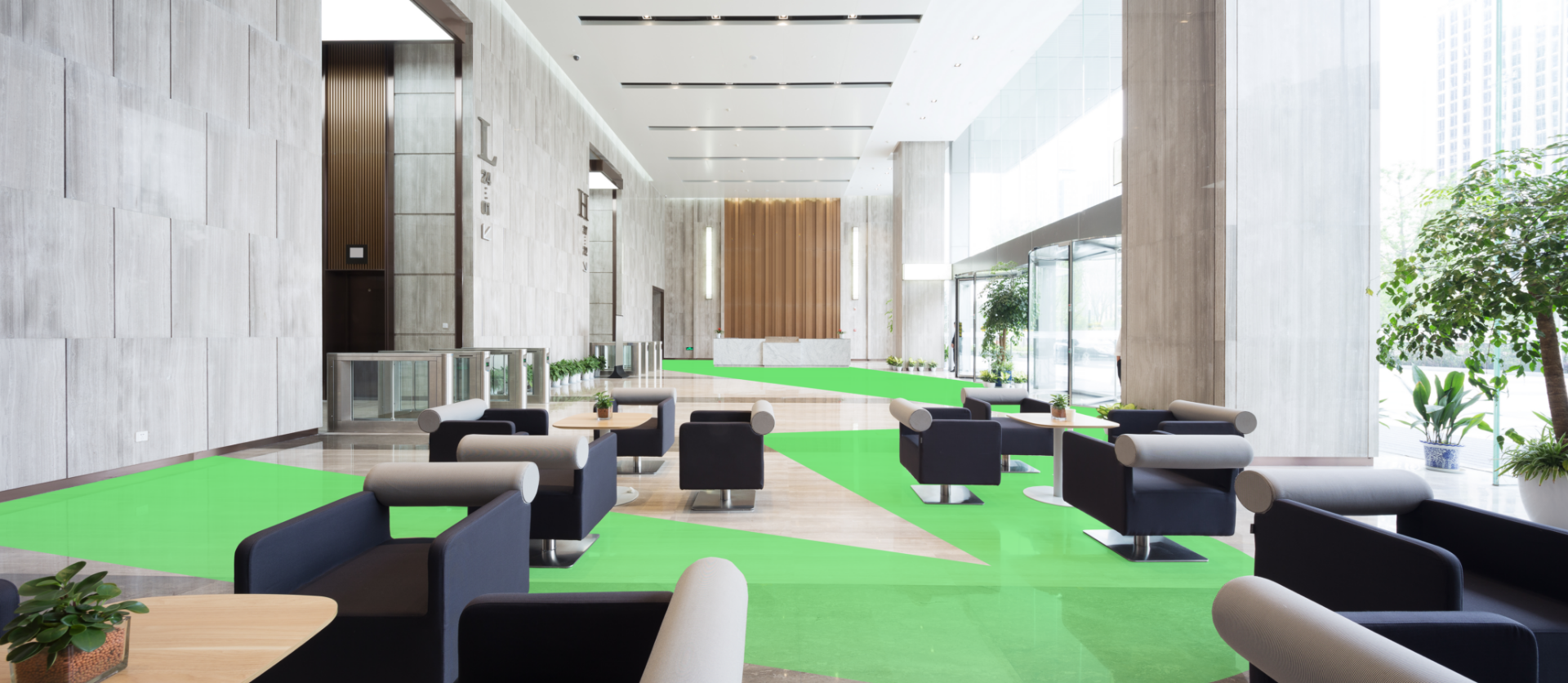 Your Local Commercial Floor & Textile Care Experts in Rochester
Commercial Carpet Cleaning in Rochester
Trusted Providers of Fast, Effective Floor Care
Clean carpets are one proven way to enhance your customers' and employees' positive experience. MilliCare offers commercial carpet cleaning solutions in Rochester and throughout Western New York that are custom fit to your workspace's needs, with plans based around your space and budget. You'll have a cleaning schedule designed to keep your floors looking like new for longer.
Want to know more about why MilliCare is Rochester's favorite environmentally friendly floor cleaning service? Call MilliCare of Western New York today and schedule a demonstration.
Our Services
Our network of skilled project-management professionals assess your space to understand your facilities' unique needs and determine which materials and surfaces in your space can be cleaned.
View All Services
Comprehensive Solutions for Your Business
MilliCare of Western New York offers cleaning solutions for more than just commercial carpet. We also clean and restore tile and grout floors, textiles and fabrics, and other hard-surface floors.
Need a few more reasons to choose MilliCare ?
Our innovative process requires significantly shorter dry times.
We can remove stains, odors, dirt, allergens, and more from deep within the surface material.
Our services improve the appearance of your commercial floors, furniture, and surfaces.
We are committed to environmentally sensitive, gentle chemicals.
Our protective care and performance coatings enhance results for added durability.
Regular carpet, floor, and textile cleaning improves indoor air quality.
Call MilliCare of Western New York today to learn more about our commercial floor cleaning services.
Incredible Cost Savings

"They have restored carpet that I thought I was going to have to pull out. The nap was down, it was filthy. No one could get it clean, [wet] extraction couldn't get it clean. They revived [the carpet] and gave us two more years with that carpet then our lease ended and we moved out. It was an incredible cost savings."

- Judy L. Senior Facility Manager, CB Richard Ellis (CBRE)

A company I can count on!

"Their immediate response to any of my last minute requests, their readiness to return the next day and clean especially stubborn spots that resurfaced, their comprehensive knowledge and explanation of their cleaning process when I really want to know, and their willingness to turn our monthly program on its ear and create a new weekly schedule for us. Now that's a company I can count on!"

- Stacy S. Time Warner Cable

Saves us stress.

"MilliCare saves us money. Saves us stress. They find a way, they work with us. We feel important because they make us feel important."

- Sarah B. Facility Manager, Blackrock Investment Manager
Read More Reviews
Achievements & Certifications
Contact Us
(585) 487-8671
Areas We Serve
adams
adams basin
adams center
addison
afton
akron
albion
alden
alder creek
alexander
alexandria bay
alfred
alfred station
allegany
allentown
alma
almond
alpine
altmar
alton
andover
angelica
angola
antwerp
apalachin
appleton
apulia station
arcade
arkport
ashville
athol springs
atlanta
attica
auburn
aurora
ava
avoca
avon
bainbridge
baldwinsville
barker
barneveld
barton
basom
batavia
bath
beaver dams
beaver falls
belfast
belleville
bellona
belmont
bemus point
bergen
berkshire
bernhards bay
bible school park
big flats
binghamton
black creek
black river
bliss
blodgett mills
bloomfield
blossvale
bolivar
boonville
boston
bouckville
bowmansville
bradford
branchport
brant
brantingham
brasher falls
breesport
brewerton
bridgeport
bridgewater
brier hill
brockport
brocton
brookfield
brooktondale
brownville
buffalo
burdett
burt
byron
calcium
caledonia
camden
cameron
cameron mills
camillus
campbell
canandaigua
canaseraga
canastota
candor
caneadea
canisteo
canton
cape vincent
carthage
cassadaga
cassville
castile
castle creek
castorland
cato
cattaraugus
cayuga
cayuta
cazenovia
celoron
centerville
central square
ceres
chadwicks
chaffee
chase mills
chaumont
chautauqua
chemung
chenango bridge
chenango forks
cherry creek
childwold
chippewa bay
chittenango
churchville
cicero
cincinnatus
clarence
clarence center
clarendon
clark mills
clarkson
clay
clayton
clayville
cleveland
clifton springs
clinton
clockville
clyde
clymer
cohocton
cold brook
colden
collins
collins center
colton
conesus
conewango valley
conklin
constableville
constantia
coopers plains
copenhagen
corbettsville
corfu
corning
cortland
cowlesville
cranberry lake
crittenden
croghan
cuba
dale
dalton
dansville
darien center
dayton
de kalb junction
de peyster
de ruyter
deansboro
deer river
deferiet
delevan
delphi falls
denmark
depauville
depew
deposit
derby
dewittville
dexter
dolgeville
dresden
dryden
dundee
dunkirk
durhamville
eagle bay
earlville
east amherst
east aurora
east bethany
east bloomfield
east concord
east homer
east otto
east pembroke
east pharsalia
east randolph
east rochester
east syracuse
east williamson
eaton
eden
edwards
elba
elbridge
ellicottville
ellington
ellisburg
elma
elmira
endicott
endwell
erieville
erin
etna
evans mills
fabius
fair haven
fairport
falconer
fancher
farmersville station
farmington
farnham
fayette
fayetteville
felts mills
fillmore
findley lake
fine
fishers
fishers landing
forestport
forestville
fort drum
frankfort
franklin springs
franklinville
fredonia
freedom
freeville
frewsburg
friendship
fulton
gainesville
gasport
geneseo
geneva
genoa
georgetown
gerry
getzville
glen aubrey
glenfield
glenwood
gorham
gouverneur
gowanda
grand island
great bend
great valley
greene
greenhurst
greenwood
greig
groton
groveland
guilford
hailesboro
hall
hamburg
hamilton
hamlin
hammond
hammondsport
hannawa falls
hannibal
harford
harpursville
harrisville
hastings
hector
helena
hemlock
henderson
henderson harbor
henrietta
herkimer
hermon
heuvelton
hilton
himrod
hinckley
hinsdale
holland
holland patent
holley
homer
honeoye
honeoye falls
hornell
horseheads
houghton
hubbardsville
hume
hunt
ilion
interlaken
ionia
irving
ithaca
jacksonville
jamestown
jamesville
jasper
java center
java village
johnson city
jordan
jordanville
kanona
kendall
kennedy
kent
keuka park
kill buck
killawog
king ferry
kirkville
kirkwood
knowlesville
knoxboro
la fargeville
la fayette
lacona
lake view
lakemont
lakeville
lakewood
lancaster
lansing
lawrenceville
lawtons
le roy
lee center
leicester
leon
leonardsville
lewiston
lily dale
lima
limerick
limestone
lindley
linwood
lisbon
lisle
little falls
little genesee
little valley
little york
liverpool
livonia
livonia center
locke
lockport
lockwood
lodi
lorraine
lowman
lowville
lycoming
lyndonville
lyons
lyons falls
macedon
machias
madison
madrid
maine
mallory
manchester
manlius
mannsville
maple springs
maple view
marathon
marcellus
marcy
marietta
marilla
marion
martinsburg
martville
massena
mayville
mc connellsville
mc donough
mc graw
mc lean
mecklenburg
medina
memphis
mendon
meridian
mexico
middleport
middlesex
middleville
millport
minetto
minoa
model city
mohawk
montezuma
montour falls
moravia
morristown
morrisville
morton
mottville
mount morris
mount upton
mumford
munnsville
naples
natural bridge
nedrow
new berlin
new hartford
new haven
new woodstock
new york mills
newark
newark valley
newfane
newfield
newport
newton falls
niagara falls
niagara university
nichols
nicholville
nineveh
niobe
norfolk
north bay
north boston
north brookfield
north chili
north collins
north evans
north greece
north java
north lawrence
north norwich
north pitcher
north rose
north tonawanda
norwich
norwood
nunda
oakfield
oaks corners
odessa
ogdensburg
olcott
old forge
olean
oneida
ontario
ontario center
orchard park
oriskany
oriskany falls
orwell
oswegatchie
oswego
otto
ouaquaga
ovid
owego
oxbow
oxford
painted post
palmyra
panama
parish
parishville
pavilion
penfield
penn yan
pennellville
perkinsville
perry
perrysburg
peterboro
phelps
philadelphia
phoenix
piercefield
pierrepont manor
piffard
pike
pine city
pine valley
pitcher
pittsford
plainville
plessis
plymouth
poland
pompey
poplar ridge
port byron
port crane
port gibson
port leyden
portageville
portland
portville
potsdam
prattsburgh
preble
prospect
pulaski
pulteney
pultneyville
pyrites
randolph
ransomville
raymondville
reading center
red creek
redfield
redwood
remsen
rensselaer falls
retsof
rexville
richburg
richford
richland
richville
ripley
rochester
rock stream
rodman
rome
romulus
rooseveltown
rose
rush
rushford
rushville
russell
sackets harbor
saint bonaventure
salamanca
salisbury center
sanborn
sandusky
sandy creek
sangerfield
sardinia
sauquoit
savannah
savona
scio
scipio center
scottsburg
scottsville
seneca castle
seneca falls
sherburne
sheridan
sherman
sherrill
shortsville
silver creek
silver lake
silver springs
sinclairville
skaneateles
skaneateles falls
slaterville springs
smithboro
smithville flats
smyrna
sodus
sodus point
solsville
sonyea
south butler
south byron
south colton
south dayton
south lima
south new berlin
south otselic
south plymouth
south wales
spencer
spencerport
spring brook
springville
springwater
stafford
stanley
star lake
steamburg
stella niagara
sterling
stittville
stockton
stow
strykersville
swain
sylvan beach
syracuse
taberg
thendara
theresa
thousand island park
three mile bay
tioga center
tonawanda
troupsburg
trumansburg
truxton
tully
tunnel
turin
tyrone
union hill
union springs
utica
van buren point
van etten
van hornesville
varysburg
vernon
vernon center
verona
verona beach
versailles
vestal
victor
waddington
wales center
walworth
wampsville
wanakena
warners
warsaw
washington mills
waterloo
waterport
watertown
waterville
watkins glen
waverly
wayland
wayne
webster
weedsport
wellesley island
wellsburg
wellsville
west bloomfield
west clarksville
west eaton
west edmeston
west falls
west henrietta
west leyden
west monroe
west stockholm
west valley
west winfield
westdale
westernville
westfield
westmoreland
westons mills
whitesboro
whitesville
whitney point
willard
willet
williamson
williamstown
willseyville
wilson
windsor
winthrop
wolcott
woodgate
woodhull
wyoming
york
yorkshire
yorkville
youngstown
12922
12927
12949
12965
12967
12973
13020
13021
13022
13024
13026
13027
13028
13029
13030
13031
13032
13033
13034
13035
13036
13037
13039
13040
13041
13042
13043
13044
13045
13051
13052
13053
13054
13056
13057
13060
13061
13062
13063
13064
13065
13066
13068
13069
13071
13072
13073
13074
13076
13077
13078
13080
13081
13082
13083
13084
13087
13088
13089
13090
13092
13093
13101
13102
13103
13104
13107
13108
13110
13111
13112
13113
13114
13115
13116
13117
13118
13119
13120
13121
13122
13123
13124
13126
13131
13132
13134
13135
13136
13137
13138
13139
13140
13141
13142
13143
13144
13145
13146
13147
13148
13152
13153
13154
13155
13156
13157
13158
13159
13160
13162
13163
13164
13165
13166
13167
13201
13202
13203
13204
13205
13206
13207
13208
13209
13210
13211
13212
13214
13215
13217
13218
13219
13220
13221
13224
13225
13235
13244
13250
13251
13252
13261
13290
13301
13302
13303
13304
13305
13308
13309
13310
13312
13313
13314
13316
13318
13319
13321
13322
13323
13324
13325
13327
13328
13329
13331
13332
13334
13338
13340
13341
13343
13345
13346
13350
13352
13354
13355
13357
13361
13362
13363
13364
13365
13367
13368
13401
13402
13403
13404
13406
13407
13408
13409
13411
13413
13416
13417
13418
13420
13421
13424
13425
13426
13431
13433
13435
13437
13438
13440
13441
13442
13449
13454
13455
13456
13460
13461
13464
13465
13469
13471
13472
13473
13475
13476
13477
13478
13479
13480
13483
13484
13485
13486
13489
13490
13491
13492
13493
13494
13495
13501
13502
13503
13504
13505
13599
13601
13602
13603
13605
13606
13607
13608
13611
13612
13613
13614
13615
13616
13617
13618
13619
13620
13621
13622
13623
13624
13625
13626
13627
13628
13630
13631
13632
13633
13634
13635
13636
13637
13638
13639
13640
13641
13642
13643
13645
13646
13647
13648
13649
13650
13651
13652
13654
13656
13657
13658
13659
13660
13661
13662
13664
13665
13666
13667
13668
13669
13670
13671
13672
13673
13674
13675
13676
13677
13678
13679
13680
13681
13682
13683
13684
13685
13687
13690
13691
13692
13693
13694
13695
13696
13697
13699
13730
13732
13733
13734
13736
13737
13738
13743
13744
13745
13746
13748
13749
13754
13758
13760
13761
13762
13763
13777
13778
13780
13784
13787
13790
13794
13795
13797
13801
13802
13803
13809
13811
13812
13813
13814
13815
13826
13827
13830
13832
13833
13835
13840
13841
13843
13844
13845
13848
13850
13851
13862
13863
13864
13865
13901
13902
13903
13904
13905
14001
14004
14005
14006
14008
14009
14010
14011
14012
14013
14020
14021
14024
14025
14026
14027
14028
14029
14030
14031
14032
14033
14034
14035
14036
14037
14038
14039
14040
14041
14042
14043
14047
14048
14051
14052
14054
14055
14056
14057
14058
14059
14060
14061
14062
14063
14065
14066
14067
14068
14069
14070
14072
14075
14080
14081
14082
14083
14085
14086
14091
14092
14094
14095
14098
14101
14102
14103
14105
14107