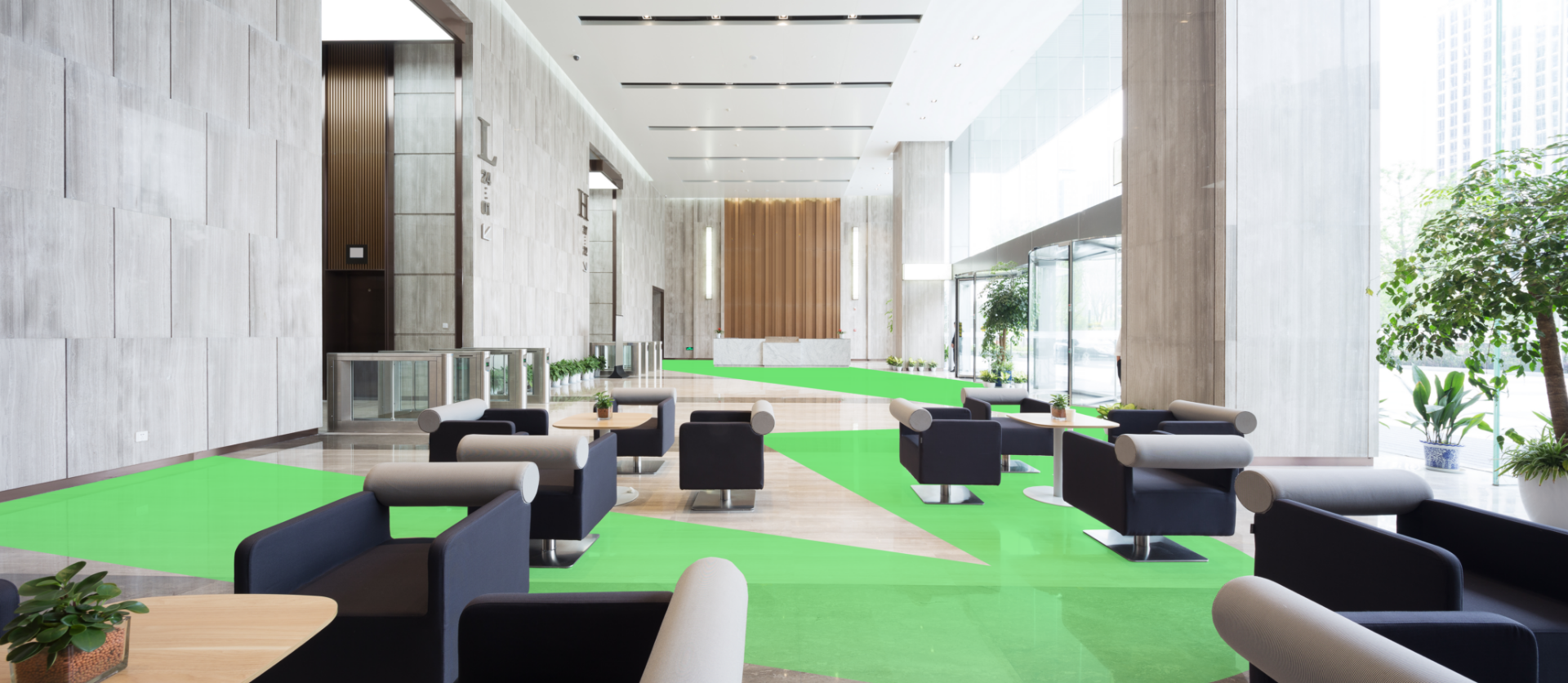 Your Local Commercial Floor & Textile Care Experts in Los Angeles
Southern California Commercial Carpet Cleaning
Better, Faster Floor Cleaning Service in the Greater Los Angeles Area & Beyond!
When your guests and employees walk into your workspace, they want to feel confident in your ability to deliver. MilliCare by Advanced Green Solutions offers quality commercial floor cleaning services in Los Angeles that help your business look its best while staying within your budget and schedule. Our unique Dry Polymer system means cleaner carpets with minimal drying time, so your business floors are ready for use almost immediately.
Our environmentally-friendly cleaning solutions are trusted throughout Southern California. Find out why when you call MilliCare by Advanced Green Solutions today to schedule a cleaning consultation.
Our Services
Our network of skilled project-management professionals assess your space to understand your facilities' unique needs and determine which materials and surfaces in your space can be cleaned.
View All Services
Why Dry Care?
When it comes to commercial floor cleaning, conventional methods like hot water extraction can run up considerable costs in energy and water, and they require long drying periods, during which mold and bacteria can grow. With MilliCare by Advanced Green Solutions, our Dry Care system gets carpets cleaner using 99% less water and only a fraction of the energy, plus your carpet dries faster, significantly reducing the risk of mold and bacteria growth.
Green Seal-Certified Cleaning Materials
Since MilliCare began over two decades ago, we've been committed to using cleaning materials that are safe for the environment. Our Dry Care polymers are certified by Green Seal, so when you use MilliCare by Advanced Green Solutions for your business's commercial floor cleaning, you're helping to boost your score for green initiatives like LEED EB:OM.
Find out how your business can achieve green initiatives with MilliCare by Advanced Green Solutions. We proudly serve clients throughout Los Angeles, Orange, Riverside, San Bernardino, and Ventura Counties. Call today at

(818) 351-7332

!
"They made it extremely easy to coordinate our office carpet cleaning needs."

- Joyce T, Assistant Manager, The Pacifica Company

"It looks great, smells great, and I think sales went up as well."

- Barry G, Sales Manager, Life Alert

"In the past getting our carpets cleaned was a nightmare! Now the job is professionally done, easily arranged, and spotlessly completed"

- Joy K, Office Manager, Levine Leichtman Capital Partners

"Even several parents noticed something looked different, and they asked if my carpet was new."

- Amy E, Owner, My Gym Toluca Lake

"Immediately upon completion, my flooring is revived and immaculate as if it were brand new, removing any trace of foot traffic, stains and/or odors."

- Evan G, owner, Gaskin Properties

"Not only were they able to get out multiple old, big, dark, ink stains, they made our 10 year old carpets look brand new again!"

- Christine V, Office Manager, CCI

"You and your crew were prompt, thorough and my carpets and furniture look great."

- Chris S, American Relocation & Logistics

"Everything was awesome!"

- Emma H, Owner, My Gym Pasadena
Read More Reviews
Achievements & Certifications
Contact Us
(818) 351-7332
Areas We Serve
acton
adelanto
agoura hills
aguanga
alhambra
aliso viejo
altadena
amboy
anaheim
angelus oaks
anza
apple valley
arcadia
artesia
atwood
avalon
azusa
baker
baldwin park
banning
barstow
beaumont
bell
bell gardens
bellflower
beverly hills
big bear city
big bear lake
bloomington
blue jay
blythe
brandeis
brea
bryn mawr
buena park
burbank
cabazon
calabasas
calimesa
camarillo
canoga park
canyon country
capistrano beach
carson
castaic
cathedral city
cedar glen
cedarpines park
cerritos
chatsworth
chino
chino hills
cima
city of industry
claremont
coachella
colton
compton
corona
corona del mar
costa mesa
covina
crestline
culver city
cypress
daggett
dana point
desert center
desert hot springs
diamond bar
downey
duarte
earp
east irvine
el monte
el segundo
el toro
encino
essex
fawnskin
fillmore
fontana
foothill ranch
forest falls
fort irwin
fountain valley
fullerton
garden grove
gardena
glendale
glendora
granada hills
grand terrace
green valley lake
guasti
hacienda heights
harbor city
hawaiian gardens
hawthorne
helendale
hemet
hermosa beach
hesperia
highland
hinkley
homeland
huntington beach
huntington park
idyllwild
indian wells
indio
inglewood
irvine
joshua tree
la canada flintridge
la crescenta
la habra
la mirada
la palma
la puente
la quinta
la verne
ladera ranch
laguna beach
laguna hills
laguna niguel
laguna woods
lake arrowhead
lake elsinore
lake forest
lake hughes
lakewood
lancaster
landers
lawndale
littlerock
llano
loma linda
lomita
long beach
los alamitos
los angeles
lucerne valley
ludlow
lynwood
lytle creek
malibu
manhattan beach
march air reserve base
marina del rey
maywood
mecca
menifee
mentone
midway city
mira loma
mission hills
mission viejo
monrovia
montclair
montebello
monterey park
montrose
moorpark
moreno valley
morongo valley
mount wilson
mountain center
mountain pass
mt baldy
murrieta
needles
newberry springs
newbury park
newhall
newport beach
newport coast
nipton
norco
north hills
north hollywood
north palm springs
northridge
norwalk
nuevo
oak park
oak view
ojai
ontario
orange
oro grande
oxnard
pacific palisades
pacoima
palm desert
palm springs
palmdale
palos verdes peninsula
panorama city
paramount
parker dam
pasadena
patton
pearblossom
perris
phelan
pico rivera
pinon hills
pioneertown
piru
placentia
playa del rey
playa vista
point mugu nawc
pomona
port hueneme
port hueneme cbc base
porter ranch
quail valley
rancho cucamonga
rancho mirage
rancho palos verdes
rancho santa margarita
redlands
redondo beach
reseda
rialto
rimforest
riverside
rosemead
rowland heights
running springs
san bernardino
san clemente
san dimas
san fernando
san gabriel
san jacinto
san juan capistrano
san marino
san pedro
santa ana
santa clarita
santa fe springs
santa monica
santa paula
seal beach
sherman oaks
sierra madre
signal hill
silverado
simi valley
skyforest
somis
south el monte
south gate
south pasadena
stanton
stevenson ranch
studio city
sugarloaf
sun city
sun valley
sunland
sunset beach
surfside
sylmar
tarzana
temecula
temple city
thermal
thousand oaks
thousand palms
toluca lake
topanga
torrance
trabuco canyon
trona
tujunga
tustin
twentynine palms
twin peaks
universal city
upland
valencia
valley village
valyermo
van nuys
venice
ventura
verdugo city
victorville
vidal
villa park
walnut
west covina
west hills
west hollywood
westlake village
westminster
whitewater
whittier
wildomar
wilmington
winchester
winnetka
woodland hills
wrightwood
yermo
yorba linda
yucaipa
yucca valley
90001
90002
90003
90004
90005
90006
90007
90008
90009
90010
90011
90012
90013
90014
90015
90016
90017
90018
90019
90020
90021
90022
90023
90024
90025
90026
90027
90028
90029
90030
90031
90032
90033
90034
90035
90036
90037
90038
90039
90040
90041
90042
90043
90044
90045
90046
90047
90048
90049
90050
90051
90052
90053
90054
90055
90056
90057
90058
90059
90060
90061
90062
90063
90064
90065
90066
90067
90068
90069
90070
90071
90072
90073
90074
90075
90076
90077
90078
90079
90080
90081
90082
90083
90084
90086
90087
90088
90089
90091
90093
90094
90095
90096
90099
90189
90201
90202
90209
90210
90211
90212
90213
90220
90221
90222
90223
90224
90230
90231
90232
90233
90239
90240
90241
90242
90245
90247
90248
90249
90250
90251
90254
90255
90260
90261
90262
90263
90264
90265
90266
90267
90270
90272
90274
90275
90277
90278
90280
90290
90291
90292
90293
90294
90295
90296
90301
90302
90303
90304
90305
90306
90307
90308
90309
90310
90311
90312
90401
90402
90403
90404
90405
90406
90407
90408
90409
90410
90411
90501
90502
90503
90504
90505
90506
90507
90508
90509
90510
90601
90602
90603
90604
90605
90606
90607
90608
90609
90610
90620
90621
90622
90623
90624
90630
90631
90632
90633
90637
90638
90639
90640
90650
90651
90652
90660
90661
90662
90670
90671
90680
90701
90702
90703
90704
90706
90707
90710
90711
90712
90713
90714
90715
90716
90717
90720
90721
90723
90731
90732
90733
90734
90740
90742
90743
90744
90745
90746
90747
90748
90749
90755
90801
90802
90803
90804
90805
90806
90807
90808
90809
90810
90813
90814
90815
90822
90831
90832
90833
90834
90835
90840
90842
90844
90846
90847
90848
90853
90895
90899
91001
91003
91006
91007
91009
91010
91011
91012
91016
91017
91020
91021
91023
91024
91025
91030
91031
91040
91041
91042
91043
91046
91066
91077
91101
91102
91103
91104
91105
91106
91107
91108
91109
91110
91114
91115
91116
91117
91118
91121
91123
91124
91125
91126
91129
91182
91184
91185
91188
91189
91199
91201
91202
91203
91204
91205
91206
91207
91208
91209
91210
91214
91221
91222
91224
91225
91226
91301
91302
91303
91304
91305
91306
91307
91308
91309
91310
91311
91313
91316
91319
91320
91321
91322
91324
91325
91326
91327
91328
91329
91330
91331
91333
91334
91335
91337
91340
91341
91342
91343
91344
91345
91346
91350
91351
91352
91353
91354
91355
91356
91357
91358
91359
91360
91361
91362
91364
91365
91367
91371
91372
91376
91377
91380
91381
91382
91383
91384
91385
91386
91387
91390
91392
91393
91394
91395
91396
91401
91402
91403
91404
91405
91406
91407
91408
91409
91410
91411
91412
91413
91416
91423
91426
91436
91470
91482
91495
91496
91499
91501
91502
91503
91504
91505
91506
91507
91508
91510
91521
91522
91523
91526
91601
91602
91603
91604
91605
91606
91607
91608
91609
91610
91611
91612
91614
91615
91616
91617
91618
91701
91702
91706
91708
91709
91710
91711
91714
91715
91716
91722
91723
91724
91729
91730
91731
91732
91733
91734
91735
91737
91739
91740
91741
91743
91744
91745
91746
91747
91748
91749
91750
91752
91754
91755
91756
91758
91759
91761
91762
91763
91764
91765
91766
91767
91768
91769
91770
91771
91772
91773
91775
91776
91778
91780
91784
91785
91786
91788
91789
91790
91791
91792
91793
91801
91802
91803
91804
91896
91899
92201
92202
92203
92210
92211
92220
92223
92225
92226
92230
92234
92235
92236
92239
92240
92241
92242
92247
92248
92252
92253
92254
92255
92256
92258
92260
92261
92262
92263
92264
92267
92268
92270
92274
92276
92277
92278
92280
92282
92284
92285
92286
92301
92304
92305
92307
92308
92309
92310
92311
92312
92313
92314
92315
92316
92317
92318
92320
92321
92322
92323
92324
92325
92327
92329
92331
92332
92333
92334
92335
92336
92337
92338
92339
92340
92341
92342
92344
92345
92346
92347
92350
92352
92354
92356
92357
92358
92359
92363
92364
92365
92366
92368
92369
92371
92372
92373
92374
92375
92376
92377
92378
92382
92385
92386
92391
92392
92393
92394
92395
92397
92398
92399
92401
92402
92403
92404
92405
92406
92407
92408
92410
92411
92413
92415
92418
92423
92427
92501
92502
92503
92504
92505
92506
92507
92508
92509
92513
92514
92515
92516
92517
92518
92519
92521
92522
92530
92531
92532
92536
92539
92543
92544
92545
92546
92548
92549
92551
92552
92553
92554
92555
92556
92557
92561
92562
92563
92564
92567
92570
92571
92572
92581
92582
92583
92584
92585
92586
92587
92589
92590
92591
92592
92593
92595
92596
92599
92602
92603
92604
92605
92606
92607
92609
92610
92612
92614
92615
92616
92617
92618
92619
92620
92623
92624
92625
92626
92627
92628
92629
92630
92637
92646
92647
92648
92649
92650
92651
92652
92653
92654
92655
92656
92657
92658
92659
92660
92661
92662
92663
92672
92673
92674
92675
92676
92677
92678
92679
92683
92684
92685
92688
92690
92691
92692
92693
92694
92697
92698
92701
92702
92703
92704
92705
92706
92707
92708
92711
92712
92728
92735
92780
92781
92782
92799
92801
92802
92803
92804
92805
92806
92807
92808
92809
92811
92812
92814
92815
92816
92817
92821
92822
92823
92825
92831
92832
92833
92834
92835
92836
92837
92838
92840
92841
92842
92843
92844
92845
92846
92850
92856
92857
92859
92860
92861
92862
92863
92864
92865
92866
92867
92868
92869
92870
92871
92877
92878
92879
92880
92881
92882
92883
92885
92886
92887
92899
93001
93002
93003
93004
93005
93006
93007
93009
93010
93011
93012
93015
93016
93020
93021
93022
93023
93024
93030
93031
93032
93033
93034
93035
93036
93040
93041
93042
93043
93044
93060
93061
93062
93063
93064
93065
93066
93094
93099
93510
93532
93534
93535
93536
93539
93543
93544
93550
93551
93552
93553
93562
93563
93584
93586
93590
93591
93592
93599