Air Care
Just twenty minutes. And you're left with air that's fresh, clean and safe for everyone and the environment.
Oh no!
A milk container was spilled over the weekend. By Monday morning, that smell is everywhere. It's awful. You can't work. You can't even be in there. Big problem.
Old food and garbage. Dampness. A sweaty locker room. Stale cigarette smoke. Spilled perfume. There are hundreds of odors that can literally stop the workflow. And make your facility smell anything but clean. We have the tools to help you take care of your space and the people in it.
Your space will not only look cleaner, but will feel fresh, too. Why? MilliCare by Advanced Green Solutions's proprietary commercial carpet cleaning maintenance system has been proven to remove up to 99% of the pollutants from your carpet—preventing them from becoming airborne.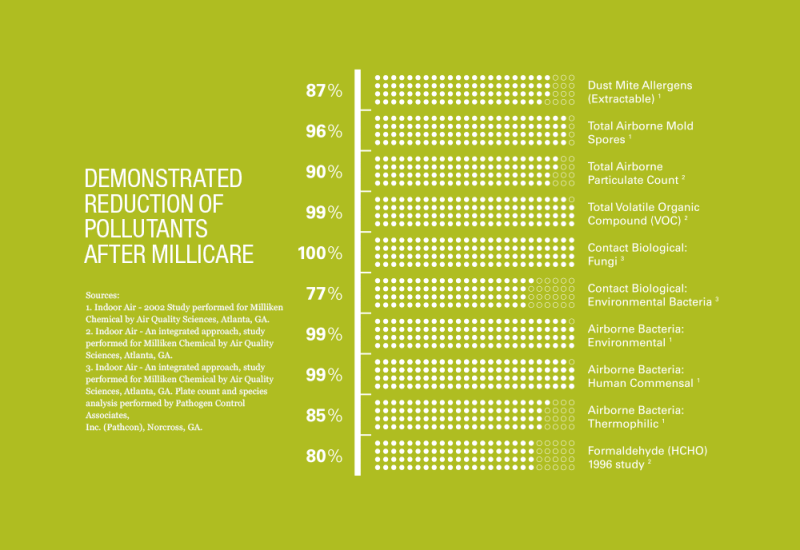 Twenty Minutes to Freshness
Our Air Care odor neutralizing solution is not just a temporary cover up. It permanently neutralizes and eliminates odors on a molecular level, giving you a renewed sense of clean in only twenty minutes.
Forget offensive chemical residues and smells. Our technology is safe, biodegradable, and environmentally friendly. That's clean and green for you, your customers, and for the planet.
Get the day back on track. We'll eliminate the odors. You'll erase their unpleasant memory. And everyone will be able to work comfortably once again.