Winter Weather Carpet Care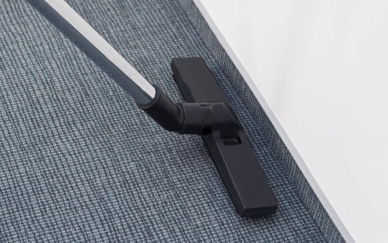 Without question, carpets can take a beating during the winter months. Rain, snow, ice, ice melt, dirt and sand are more likely to be tracked into a facility during the winter than warmer and milder months of the year. Floors wear faster when grit pounds onto the surface with foot traffic. To better prepare for this abuse, there are many ways to limit the damage. Make a plan for your winter weather carpet care with EcoDry.
Reports have shown that a carpet can hold and hide a pound of dirt per square foot before looking dirty. The soil buildup will cause irreparable damage if untreated. It will grind into the fibers, scratching them and causing them to look dull and worn. Finishes will wear off hard surfaces at an accelerated rate also causing them to look dull and shabby.
A ProActive vs. Reactive Approach
Identify and assess the highest traffic, dirt prone areas. Knowing the busiest and hardest hit areas will help to strategize how best to keep a facility free from damaging grit. Studying traffic patterns will help determine where soiling is most likely to accumulate and where the most attention is needed. Lower floors in a multistory building are prone to heavier abuse as salt, ice melt tend to collect more on lower levels of a facility. The type of facility and its functions will also influence how to maintain the carpet and the strategy.
Installing high performance entrance mats will be extremely helpful keeping "dirt at the door". A good quality "walk off" mat will have high scraping and absorbency abilities keeping dirt and moisture from entering the facility and are crucial for maintaining and protecting carpet. At least 10 feet is recommended, and different types can be used on the interior and exterior zones of an entrance to a building. Mats can catch as much as 90 percent of soil and moisture entering a facility.
Vacuuming the high traffic areas more frequently will remove the debris that sneaks in with traffic. Outside elevators, stairs and escalators are hot spots for ice melt and contaminants. For best results the use of a good well maintained commercial vacuum is critical. It is important to note that with increased use vacuum bags will need more frequent changes and filters will require checks more often to insure they are clean for optimal efficiency.
Implementing a carpet care strategy will many times involve a variety of cleaning processes. Dry extraction might not remove the soil and chemicals. As a result, hot water extraction combined with effective cleaning solutions is recommended. Carpet is unique and requires different chemistry depending what the environmental issues are. A reputable and prepared carpet cleaner has the tools necessary to remove whatever soils are present. An adequate carpet care and cleaning plan will keep a facility healthier, looking its best and extend the useful life and appearance of the carpet.
Posted By
Benf
Categories: