2017 Carpet and Flooring Trends
MilliCare is part of Milliken, an innovation company that has been exploring, discovering and creating ways to enhance people's lives since 1865. We recently sat down with Mike Brown, marketing strategist for Milliken Floor Covering, to learn about recent carpet and flooring trends.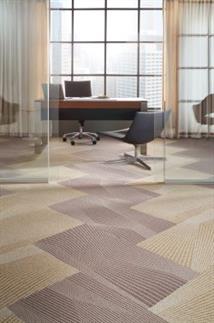 What are some recent carpet trends you have seen at Milliken Floor Covering?
We've seen many designers opt for a palette of subtle grays, while still taking full advantage of bold, bright colors to add accents and highlights to a space. Overall, there's a big increase in the design community's willingness to use vibrant colors and experiment with fun and funky designs. We also continue to see projects that are using multiple materials, which is why we are focused on both hard surface and soft surface offerings.
What recent hard flooring trends have you noticed?
Luxury Vinyl Tile (LVT) has seen a phenomenal increase in popularity. Designers are starting to move beyond classic stone and wood patterning and beginning to experiment with the huge design flexibility LVT has to offer. They're using LVT to experiment with bold color combinations and exciting installation patterns to create a completely original feel in any environment that uses hard flooring.
Is sustainability a consideration for customers? How does it impact their carpet or flooring choices?
Designers want to be green, but the way in which they reach that goal has changed a lot in recent years. Sustainability and recycled content are still important factors, but it's health and wellness that has become a more immediate concern for many designers. When people spend eight or nine hours in a space each day, the way that space is designed has a huge impact on their well-being. Increasingly, designers are specifying flooring that can help improve the day-to-day health and wellness of its users, focusing on:
Acoustic profiles, choosing carpeted flooring that will help absorb and reduce ambient noise 
Sit-to-stand working, opting for cushioned, supportive carpet to encourage adoption of active working practices
Flexible working, using bright flooring colors and bold patterns to create different distinct environments within a single working environment - from heads-down space to collaborative breakout areas
Have you noticed any new issues that customers have concerning their flooring?
Moisture management has always been an issue for flooring customers. Industry-wide changes in adhesive types and concrete manufacturing have led to a dramatic up-tick in moisture-related flooring failures (and even health problems). Adhesive failure, and mold and mildew, are more common than ever, so customers are increasingly looking for flooring that solves the root cause of moisture problems. They're looking for flooring that allows water vapor to evaporate through the carpet's seams, instead of trapping it to fester beneath the floor.
Thanks, Mike! We're happy to have Milliken experts available for advice and collaboration, and we enjoyed learning about recent carpet and flooring trends from a true professional. Have you incorporated any of these trends into your facility? Let us know in the comments below.
Posted By
milliCare
Categories: