MilliCare 's Tile & Grout Approach Beats the Competition
We know that cleanliness makes an impression on visitors to your facility, so we take tile and grout care seriously. At MilliCare , we provide a unique combination of process and product that you won't find elsewhere.
MilliCare signature process
Because grout is extremely porous, traditional cleaning methods tend to deposit dirt below the floor line, making it more difficult to keep clean - and keep it looking clean. We go beyond the normal soap-and-water methods to restore your tile and grout back to its original luster using a three-step process.
1. Clean
First, we clean and degrease your tile and grout. Our cleaners remove odors and organic material.
2. Color and Seal
Next, we densify and seal your grout. With over 45 color options, we can restore your grout close to its original color or give it a makeover with a color a couple of shades within the original. These colors are not topical but actually re-color the grout itself for a more natural look.
3. Coat (optional)
To provide the ultimate protection for your flooring from both soil and wear, we apply one of our signature Performance Coatings. Choose from four different options based on your facility's needs. Applying a Performance Coating allows you to do periodic deep cleans with no chemicals to achieve the original look of the floor.
MilliCare green products
At MilliCare , we believe what we use to clean your tile and grout is just as important as how we do it, and that's why all our products are low odor and environmentally responsible. Our commitment to the environment is one thing that truly sets MilliCare apart from the competition. While some competitors may offer green cleaning options, they're rarely a standard practice and often cost more. At MilliCare , each customer receives the best products available because we want every facility to be both clean and safe.
MilliCare competitors
We are transparent about our processes and products. There's no "secret formula," but it's a fact that no one else in the industry takes the same approach that we do to combine a three-step process and green, effective products to treat tile and grout.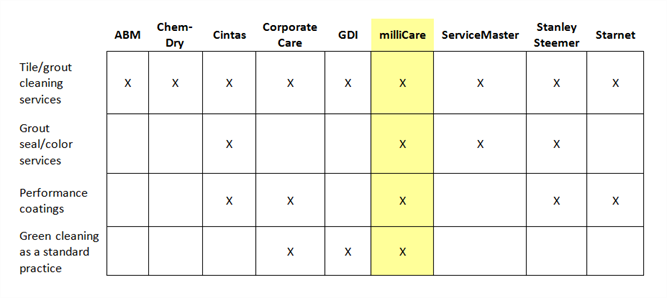 Lasting results
We don't just say that our methods are better - they actually are. It's been proven that our three-step process, combined with our environmentally responsible products, keeps your tile and grout clean and odor-free three times longer than traditional cleaning methods. We make tile and grout maintenance easy and worry-free for you.
Contact us today to learn how we can help restore your tile and grout to its former glory.
Posted By
Malcolm Sparling
Categories: