Is Your Law Firm Really Making the Impression You Expect?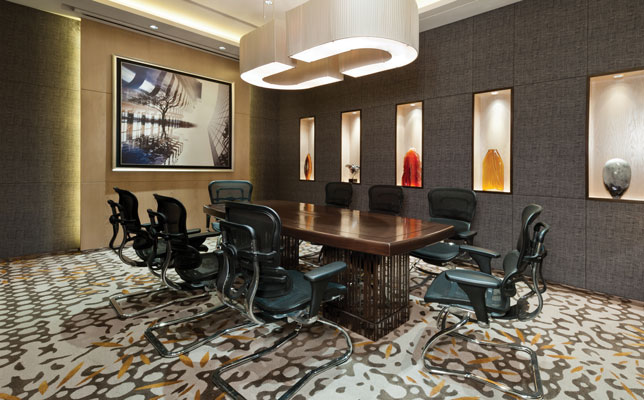 White & Case carries significant prestige as a longtime New York City law firm, but it's not relying on its 100-plus year history to impress clients. In addition to a roster of highly trained attorneys and staff — as well as connections to some of the most recognized companies within the century — the practice has cemented its future by adding a stunning 49,000 square feet of space in Rockefeller Group's building at 1221 Avenue of the Americas.
Why did White & Case stay in place in its now 489,000 square feet space instead of heading to other locations in newer "digs"? Perhaps it was the $50 million facelift Rockefeller Group gave to the skyscraper. From lobbies to elevators and plazas to systems, a vast number of public and private spaces received serious renovations to exude a pristine, modern, clean feeling.
In other words, 1221 Avenue of the Americas doesn't just look good on its own; the location makes White & Case look good, too.
Taking Nothing for Granted When First Impressions Matter
Your law firm might not have the ancestry of a White & Case, but that doesn't mean you can't create a stellar first impression when prospective clients walk in for initial consultations. In fact, you have an obligation to understand what your space says to anyone who enters, from a possible new associate with law review expertise to an opposing counsel — right down to the floors.
Flooring speaks volumes, especially when it's dirty. And most of that dirt comes courtesy of the outside world. A full four-fifths of the debris ground into grout and carpeting is tracked in on feet, rolling briefcases, dollies, assisted devices, and other types of equipment. Throughout the day, the soil nestles in fibers and porous surfaces, causing smudges, smears, matting, spots, stains, and tracks. Without intervention, the particulate may eventually breed odor-causing bacteria, especially in lobbies and restrooms.
Rather than simply accepting this fact, your firm can reverse months or even years of neglect and damage by working with MilliCare to develop a customized Care Plan catered to your various floor surfaces.
For more than a decade, MilliCare has proudly partnered with the Association of Legal Administrators to offer the highest degree of floor cleaning for legal professionals. Our technicians understand the importance of keeping law firms spotless: We've instituted several systems and protocols to provide our legal customers with nothing short of reliable, top-notch service.
1. Our dry polymer-based carpet cleaning poses zero risk to paper documents.
Paper lives on in law firms in numerous forms, despite the digitization of society. From contracts to images, lawyers' desks and meeting areas are often the sites for stacks upon stacks of documents.
Traditional carpet cleaning uses water and steam, both of which can be hazardous to paper. Even a short-term increase in humidity could become problematic for older forms or fragile papers. Because we use a dry-anchored system to sanitize carpeting, we don't expose paperwork to liquids, which is a relief to many attorneys, paralegals, and staff.
2. Our process is rapid and catered around attorneys' unconventional schedules.
It's not unusual for law firm employees and partners to work day and night. That's why MilliCare 's team works quickly. Most cleaning of carpet, tile, and grout results in little to no downtime.
To add to your peace of mind, some of our MilliCare franchises even conduct background checks on their technicians, and all franchises promote thorough tech training. Additionally, each of our floor cleaning techs shows up to the job with a badge and in uniform to ensure credentials at the door.
3. The same supervisor handles the job site every time.
Law firms deal in private information. For this reason, we ensure the same supervisor heads up his or her floor cleaning crew of technicians. Taking this extra step cuts down on surprises and builds a legacy knowledge of your office's needs. Plus, it reduces concerns about access processes, parking considerations, and security necessities.
Our philosophy isn't to just care for your floors, but to also help make the impression you want on everyone who visits. Partner with us today by contacting one of our locations, and take charge your firm's appearance.
Posted By
Categories: