Different Floor Finishes and Where They Work Best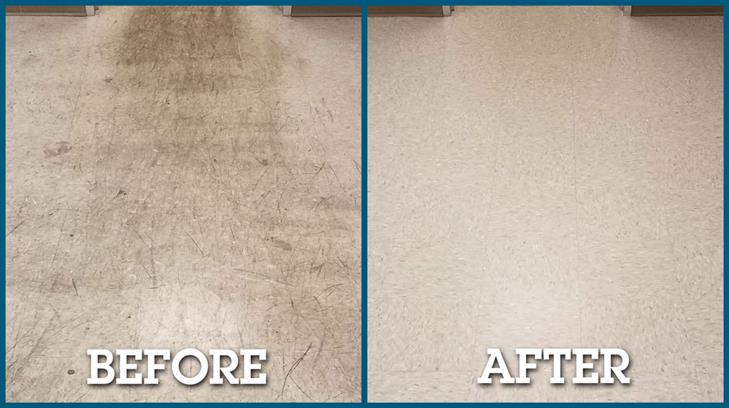 Imagine buying a Maserati from a salesperson who's dressed to the hilt — except for a pair of dirty old shoes. Wouldn't you be a bit suspicious of his image discrepancy?
The same principle applies to a business's flooring. Your walls might gleam, your desks may shine, but if your floors are soiled, worn, and generally unkempt, what will your customers — or vendors, job candidates, and potential investors — think?
Your job is to purchase the best flooring you can and then maintain the floors with the help of a proprietary, reputable finishing product. The finishing process serves three distinctive purposes: aesthetics, functionality, and return on investment.
The importance of appearance and a stellar first impression is obvious, but consideration of the other two principles is not so simple.
In terms of functionality, floors must be capable of handling normal wear and tear. Every business expects a certain amount of traffic; retailers will plan for heavy footfall, whereas employee-only spaces will have less coming and going by the public. Thus, the floor finish adds to the durability of the floor, regardless of the flooring type. It's much like putting a picture in a glass frame: While not necessary, it keeps it out of harm's way.
This leads to a discussion about return on investment. Your business invests in a certain flooring type and deserves to get as much mileage out of it as possible. Coating your floors with a long-lasting product streamlines your maintenance protocols and ensures the flooring won't be exposed to excess moisture, stains, chemicals, and other destructive elements.
Floor Finish Options Provided by MilliCare
Adding a protective layer to your floors is the perfect way to showcase your facility and keep it running in the black. Performance coatings are a vast improvement compared to traditional finishes. These coatings not only help keep a facility cleaner, but they also promote better longevity and durability of the floor overall. Best of all, you have several choices in terms of floor finishing solutions from MilliCare :
1. Performance Coating: Standard
Technology has transformed the world of floor finishes, as the Performance Coating reveals. Made from urethane, the coating provides a durable, flexible, permanent wear layer that protects and restores. Want a clear matte, satin, semigloss, or gloss finish? Performance Coating is a match. Need to rejuvenate old floors? Performance Coating is also available in 1,080 colors for architectural preferences.
2. Performance Coating: No-Mark
If your floor requires additional protection — as in the case of businesses with floors exposed to plasticizing of petroleum products, hair dyes, or chemicals — opt for the No-Mark version of the Performance Coating line.
3. Performance Coating: Slip-Resistant
Who would have realized that adding a postconsumer crushed glass additive to a flooring product could be the answer to the need for slip-resistant coating? MilliCare , of course. This version of the original Performance Coating exceeds the recommended coefficient of friction (or slip) proposed by the Americans with Disabilities Act's accessibility guidelines, making it safe for consumers. Why replace expensive flooring when a fully functional slip-resistant floor could be yours within 24 hours?
4. Performance Coating: UV
For around-the-clock facilities that have little to no downtime, UV Performance Coating is a lifesaver. It's a version of the basic Performance Coating that cures instantly when exposed to the UV light from our UV machine. Depending on the project size and scope, this can dramatically reduce downtime of your space. Less wasted productivity is the hallmark of this type of floor finish.
5. Performance Coating: Electro-Static Dispersive
Conductive and dispersive floors require specialized coatings, such as MilliCare 's ESD. Not only can this finish be used to restore the conductivity or dispersive properties of previously damaged floors, but it can also be used to create a dispersive or conductive floor from a nonconductive floor.
Benefits and Savings Associated With Coating Installation
After protecting your floors using any of MilliCare 's Performance Coating options, expect to glean the advantages of your choice.
First, if your flooring was new before coating application, you should see both upfront and long-term maintenance cost savings. On the other hand, if your floors were scratched and damaged, a protective coating can restore their original luster and limit future damage.
Although all types of organizations need floor finishes, education and commercial spaces are notoriously tough on their flooring. Thus, they benefit from the durability of professional coating application. Similarly, for companies in the healthcare industry, MilliCare allows providers to maintain high-quality floors without sacrificing the comfort or safety of the patient environment. In fact, many healthcare clients note that it takes six years to eight years before they require a re-coat.
Learn More and Start a Dialogue
If you are interested in learning more about the right floor finishes for your needs, MilliCare 's trained network of installers are available throughout the nation. Each installer meets rigorous standards, and all projects include a three-year warranty for the adhesion and wear-through of the coating. Contact MilliCare today for an assessment of the floor finish for your needs.
Posted By
Categories: