Network Spotlight: MilliCare by EBC Carpet Services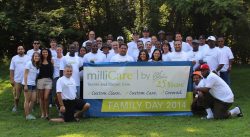 Franchise: MilliCare by EBC Carpet Services
Owner: Chip Rankin
Background
How long have you been part of the MilliCare network?
I joined EBC in October of 1991. In 1997, my wife, Chris, and I purchased the company from our founder, Alan Mowe, from London, England.
What geographic areas do you service?
We have four offices and cover the entire Mid-Atlantic area of the U.S., including Philadelphia, PA; Southern New Jersey; Wilmington, DE; Washington, DC; Baltimore, MD; and Southern Virginia.
How many cleaning technicians do you have on staff?
Companywide, our team of supervisors and technicians is 70 strong. We have six operations managers who lead these teams.
Company culture
What is your company philosophy?
Our key strategy is to find and keep more MilliCare carpet maintenance customers. Then our mission is to amaze them with great service and exceed all their expectations for a service company so we retain each customer after each and every service visit.
In your opinion, what makes MilliCare unique?
The experience of our network makes it unique. MilliCare companies have been maintaining carpet for decades. There is certainly not a service offering that is this experienced with this level of success.
What is the best thing about being part of the MilliCare network?
I do love being part of a network of business owners that can share and learn from each other. I also love that we are partnered with Milliken & Company — a company that truly is an American treasure and a competitive weapon for us. This is a powerful combination, and I feel we will continue to take advantage of this great partnership with our great experience and strength in our marketplace.
Customers
What are some of the accounts your franchise services?
We have a great customer list. GEICO, BlackRock, PNC Bank, AmeriGroup, Smithsonian Museums and Comcast are examples from each franchise area, but our largest customer is BWI Thurgood Marshall Airport in Baltimore, MD. We still have MilliCare 's first national account customer: Navy Federal Credit Union. Since then, we have over 15 other national accounts which are supported by our entire network — the list includes BlackRock, Progressive, Capital One, Texas Instruments, DLA Piper and USAA.
What's one problem you consistently solve for your customers?
We are company they can depend on. They can forget about the care of their floors and focus on all other aspects of their facilities. We learn each customer's unique needs, create a program for care, capture and retain the information and then perform each clean, get security correct and get the billing right. The first clean is right, and the 100th clean is right. We never give them the need to change to another company.
When you share information about MilliCare with potential customers, what is it?
It is hard for me to first talk about anything but our dry carpet cleaner. Our ability to maintain a building's carpet is unmatched by anyone because of our technicians using our MilliCare process. On the planet, there is not a better process for maintaining a carpet.
Awards
Has your franchise won any awards or received any industry recognition?
In 1992, our company turned in an application for a quality award process, and for years we improved our application about our internal processes for training and keeping technicians and also finding and keeping customers. We used the provided feedback reports and site visits, made many improvements and applied many more times. We won the Delaware quality award in 1994, 1996 and 1998. In 2000, we added the Superstars award from the State of Delaware Chamber of Commerce. We also refined our internal processes by self-certifying our ISO 9002 specifications in 1998. These awards and feedback and performance excellence ideals helped us craft our internal processes which still run our company. The continuous improvement model we adopted to continually apply and win and self audit is still very much the culture of our leadership team and guides our strategic plan each year.
If you're looking for a MilliCare provider in the Mid-Atlantic area, contact MilliCare by EBC Carpet Services via email or visit their website.
Posted By
milliCare
Categories: