How Facility Managers Benefit from MilliCare
This year's World Facilities Management Day (World FM Day) is May 17. As a company that partners with facility managers every single day, we are looking forward to celebrating the men and women responsible for maintaining the safety, efficiency and usability of workplaces around the globe.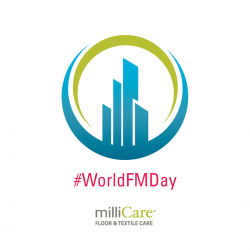 Facility managers have a job that could be described as a balancing act. They continually balance budget needs with maintenance requirements, safety procedures with efficiency and sustainability with profitability. An oft-quoted reason MilliCare is the vendor of choice for facility mangers is our ability to help them maintain that balance. Our services are both effective and environmentally friendly. Our pricing is competitive, and our work is reliable.
Before we even begin cleaning, a MilliCare floor care professional meets with a facility manager to customize a Care Plan based on each facility's specific needs. We work with them to determine products, strategies and schedules that fit each facility. At the end of the day, MilliCare strives to make facility manager's jobs easier and a little less complicated, at least regarding floor care.
MilliCare 's facility management resources
MilliCare finds ways to help facility managers not only through the services we provide, but also by offering resources that can drive career development with our key contacts. For the past three years, MilliCare has provided grants for professionals interested in pursuing the Certified Facility Manager (CFM) credential from the International Facility Management Association (IFMA). This year we've pledged to assist 13 individuals in preparing for the CFM exam.
The grant program is a unique, relationship-building experience that includes:
A seat in the one-day CFM Exam Prep Workshop

"What keeps you up at night" networking roundtable discussion and reception with peers and members of the MilliCare franchise network

A tour of the Roger Milliken Center, home to Milliken & Company

Travel to and from Spartanburg, South Carolina

Lodging, airfare, all transfers and meals
Apply for the CFM grant
If you're interested in applying for MilliCare 's CFM grant, you will need to complete the CFM application before August 4, 2017, in the Credentials Application and Maintenance Program (CAMP) as well as a short, online application for MilliCare , also found in CAMP.
As we celebrate World FM Day this year, we're also striving to provide facility managers with ongoing support and encouragement, from our signature services to special resources.
Posted By
milliCare
Categories: