Hotels Live and Die by Customer Service — Don't Let Your Floors Ruin the Experience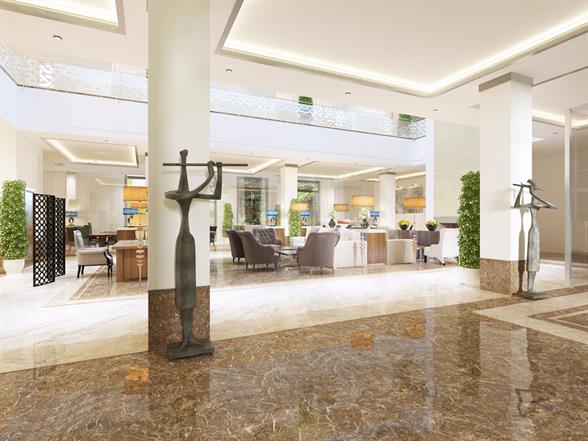 What's the difference between earning an average hotel rating and snagging an exceptional one from a visitor? According to a recent Trivago study, cleanliness plays a huge part. Nearly three-quarters of survey participants say they want their hotels not just pristine, but also "above average," at minimum, on the spotless chart.
To be sure, hospitality industry facility managers know the importance of hygienic public and private spaces. At the same time, they often overlook the impact floors can have, focusing instead on fixtures, beds, linens, and other amenities. While those items are certainly critical to a hotel's success, they aren't usually part of a guest's first impression.
But floors certainly are.
One Chance to Dazzle
Like all businesses, hotels have one pivotal opportunity to visually wow their clients in person: the moment the individual walks into the lobby.
Before the doors open to reveal a welcoming entrance and smiling greeters, visitors can't help but look down as they navigate walkways. What they see (and smell) will remain stamped in their mind. The most beautiful room won't be able to completely eradicate the memory of a filthy, scuffed entryway or stained, stale-smelling carpet.
On the other hand, bright grout, attractive carpeting, and an inviting aroma set the stage for a pleasant experience. When paired with other signs of a well-run hotel, immaculate floors showcase the establishment's commitment to social responsibility and healthier living (and working) arrangements.
A Lobby to Remember
What's the first way to turn any hotel lobby into a flawlessly maintained access point? Anticipate the amount of debris that will inevitably come through the door.
Up to 80 percent of the silt, sand, dirt, mud, moisture, and dust will come from travelers' shoes — and it'll stay on your floors unless it's stopped. Consequently, facility managers interested in avoiding both negative first impressions and rapid floor deterioration should focus on protecting and cleaning each part of the entryway.
For instance, the hard surface floor area outside the front door (and possibly just inside, too) may benefit from a protective, friction-creating coating. Residue from visitors' footwear will accumulate in one easy-to-clean spot, leaving less particulate to accumulate on other surfaces.
Another section of entrance area should be devoted to absorbing dirty fragments and moisture. Regardless of whether the floor is carpeted, it should be ready to absorb and release water, mud, etc., efficiently.
The final "first impression zone" is around the reception desk. Keeping the carpet or flooring immaculate is much easier when the bulk of soil and debris has already been captured.
Again, guests might not say anything, but they'll instantly have a more positive reaction to a hotel with well-thought-out flooring choices.
What Visitors Won't See (But Their Bodies Will Feel)
Like a silent partner, a hotel's floors should work behind the scenes not just to enhance design elements, but also to promote better indoor air quality (IAQ) — and thereby a healthier atmosphere.
When hospitality facilities partner with MilliCare , they join forces with a company passionate about making spaces cleaner, brighter, and earth friendly. For example, MilliCare 's proprietary carpet cleaning encapsulation-based system uses 99.5 percent less water than other floor sanitizing solutions. This cuts down on moisture exposure (which can lead to mold and bacteria growth) and allows use of the area almost immediately after cleaning. Less downtime equals higher productivity and better customer service without compromising IAQ.
Additionally, up to 99 percent of toxic volatile organic chemicals (VOCs) are completely removed from carpeted floors with MilliCare 's methods. VOCs, known to cause short-term and long-term health issues in many people, are continuously released into the air if they aren't permanently pulled from carpet fibers. Even daily vacuuming can't extract the bulk of VOCs from carpets because they don't just sit on top of the pile. Only a process like MilliCare 's can remove the VOCs from a given space.
With regular maintenance of the lobby floors and other floors throughout the hotel using environmentally safe, dry polymer-based cleaning systems, facility managers can count on providing an exceptional guest experience every time. Visitors may never know the full advantage of their hotel of choice choosing to partner with MilliCare , especially from a health standpoint, but that's OK: They just have to know they chose the best hotel for their stay.
Posted By
Categories: