A Guide to MilliCare 's Comprehensive Care Plans
Every facility's cleaning needs are different, and a one-size-fits-all approach doesn't always apply to cleaning strategies. Each of MilliCare 's Care Plans is customized to meet a facility's unique demands and priorities, starting from the very beginning.
Initial Care
Determining the needs of each facility starts with a consultation with the facility manager - the person who knows the facility best. A local MilliCare representative will ask a series to questions to establish the best recommendations. The questions assess daily wear and tear - how much traffic the facility sees on a regular basis and whether the traffic varies throughout the facility - and how frequently spills are happening in order to decide care frequency. The Initial Care Plan will also determine the different types of flooring used in the facility and the flooring materials (for example, wool carpet or bamboo hardwood) to inform cleaning methods. Initial Care establishes the right strategy the right way.
Periodic Care
After the Initial Care assessment, a Periodic Care Plan maps out the cleaning frequency for each area of the facility. Frequency is decided based on traffic and which areas are high, moderate or low traffic. Typically, high-traffic areas are cleaned monthly, moderate-traffic areas are cleaned quarterly (four times per year), and low-traffic areas are cleaned yearly. Once the Periodic Care Plan is in place, you can count on MilliCare 's branded methodologies to keep your facility looking great.
After frequency has been determined, the facility floor plans are color coded. High-traffic areas are labeled red, moderate-traffic areas are labeled yellow, and low-traffic areas are labeled blue, as in this example.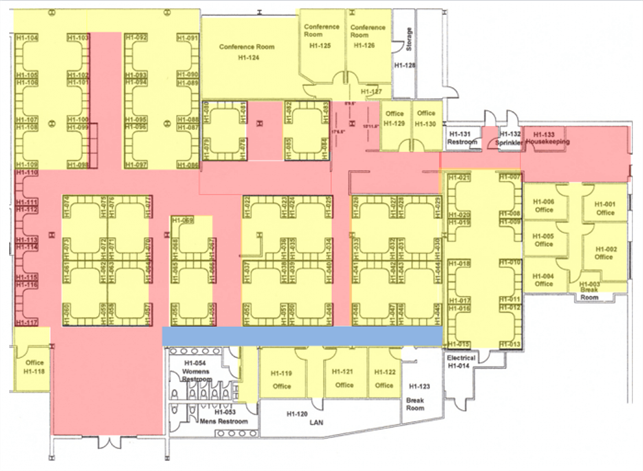 Protective Care
Periodic Care puts a plan in place for the soil that will happen, but Protective Care Plans help prevent small problems becoming bigger issues. MilliCare Fiber Protector repels dirt and stains, and Air Care neutralizes odors by destroying them. Protective Care Plans help to make facility first impressions strong.
Restorative Care
When a new space has been empty for a while, or if some specialized attention is required, a Restorative Care Plan may be in order. Restorative Care renovates floors that have seen excessive wear or have been neglected. This level of specialized care isn't necessary every day, but when it is, MilliCare technicians are highly trained to help return your facility to a "like new" appearance.
Interim Care
An important piece of every MilliCare Care Plan is to check in regularly between scheduled cleanings to see if your facility has any special needs, because life - and the occasional coffee spill - happens. MilliCare professionals are always ready to drop by and refresh your space in between scheduled cleanings, if needed.
MilliCare 's commitment to customer satisfaction is genuine. Franchisees send out quality assurance questionnaires after each visit to ensure customer happiness. They also schedule a yearly meeting with the facility manager to reassess any changes to the existing Care Plan. Each customized Care Plan reflects MilliCare 's pledge to lead the industry in both cleanliness and customer satisfaction. Learn about what service offerings are included in MilliCare Care Plans here.
Posted By
Chris Cusick
Categories: